Book review: Designing Interactions
Disclaimer: I met Bill Moggridge (the author) when he volunteered as a judge, with Brenda Laurel, and Andrew Dillon, in the CHI.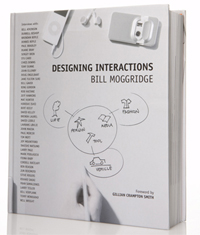 Designing Interactions is a book of stories. It takes the novel view that the people behind the designs can teach us more about design than the designs themselves. Although there are plenty of ID-magazine style photographs, they're not the centerpiece: the people and their design stories are.
If you're fond of interviews, and want to hear first person stories about how various famous designs were made, this book is for you. I'm a story guy so I was happy, finishing most of the book in one sitting (More theory-driven readers would be happier elsewhere).
The book's content is well described on the companion website, including a chapter overview exposing an emphasis for tech-design history: From the mouse, to the PC, to PalmPilot, Moggridge starts at the beginning and works his way, one person at a time, to the Internet, gaming and the future. While there is some predictable designer-self worship, and a shortage of stories of failure, many of the stories are humbling, refreshing and inspiring.
One warning is that the book has a San Francisco & IDEO centricity: more a reflection of the author's network than an objective history of tech-design. IDEO, which Moggridge co-founded, is mentioned often and if this annoys you either filter it out or look elsewhere.
The book is a bargain, coming in at a hefty 800 pages, many amazing color photos (including archival), and a companion DVD (although it overlaps with the published interviews). I can't think of another book like it.
Interview list includes: Bill Atkinson • Sergey Brin • Stu Card • Gillian Crampton Smith • Jane Fulton Suri • Bill Gaver • Bing Gordon • Rob Haitani • Jeff Hawkins • Matt Hunter • David Kelley • Brenda Laurel • David Liddle • John Maeda • Tim Mott • Joy Mountford • Takeshi Natsuno • Larry Page • Mark Podlaseck • Larry Tesler • Bill Verplank • Terry Winograd • Will Wright