I need your help with the new book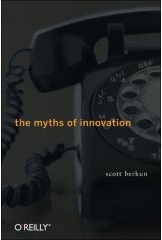 As you may know, I quit my job 4 years ago to write full time. It takes about two years to write a book, and my second, The myths of innovation, is out now and in stores.
Writing books is hard but it's harder to find them an audience – over 100,000 books are published every year in the U.S. – and that's where you come in.
If in the past I've written or talked about something you've enjoyed I can use help right now. I don't ask for help often, but when it comes to a new book, I need all I can get.
Here are easy things you can do to support my writing life – None take more than a minute of your time:
If you have a blog or a website, post a mention of the book & show the cover.
Buy the book :) It's shipping now from amazon.com.
Write a review for the book on amazon.com.
Call your local bookstore and ask for it (you don't have to reserve it, or even buy it, just asking for it helps).
Mention the book to friends or co-workers.
Forward news of the book (see below) out to others who might be interested.
I have a limited number of reviewer copies I can send to anyone willing to write a review on their blog, for a magazine or even for amazon.com – Leave a comment or contact me privately and I'll follow up.
Thanks – I appreciate the help more than you know.
The Myths of Innovation, By Scott Berkun
Amazon.com listing
Teaser video
Sample chapter (PDF)
Official press release
Early praise for the book:
"Insightful, inspiring, evocative, and just plain fun to read it's totally great."
— John Seely Brown, former Chief Scientist of Xerox, and Director, Xerox Palo Alto Research Center (PARC); current Chief of Confusion
"Small, simple, powerful: an innovative book about innovation."
— Don Norman, Nielsen Norman Group, Northwestern University; author of Emotional Design and Design of Everyday Things
"The naked truth about innovation is ugly, funny, and eye-opening, but it sure isn't what most of us have come to believe. With this book, Berkun sets us free to try to change the world unencumbered with misconceptions about how innovation happens."
— Guy Kawasaki, author of The Art of the Start
"Brimming with insights and historical examples, Berkun's book not only debunks widely held myths about innovation but also points the ways toward making your new ideas stick. Even in today's ultra-busy commercial world, reading this book will be time well spent."
— Tom Kelley, GM, IDEO; author of The Ten Faces of Innovation
"This book cuts through the hype, analyzes what is essential, and more importantly, what is not. You will leave with a thorough understanding of what really drives innovation."
— Werner Vogels, CTO, Amazon.com
"I loved this book. It's an easy-to-read playbook for anyone wanting to lead and manage positive change in their business."
— Frank McDermott, Marketing Manager, EMI Music