Innovation Myths in Schoolhouse Rock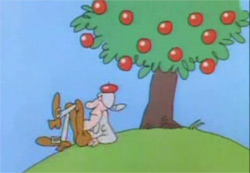 When lecturing about creativity I often ask the crowd how they know what they know – How do we really know Edison invented the lightbulb, or that Newton got hit by an apple? A common answer from audiences of my generation is the popular cartoon Schoolhouse Rock. It's curious how we dismiss things by saying "it's just for kids", but what happens when those kids grow up?
I loved Schoolhouse rock as a child, and it's probably the only reason I know what a conjunction is. But in watching a local performance of the musical based on the TV show, I found some problems with the stories that I learned, stories I researched for The Myths of Innovation.
The story of Newton, and epiphany in general, is the subject of chapter 1 of the Myths of Innovation, titled The Myth of Epiphany which you can read about here.