Myths of Innovation: #4 on Amazon's best of 2007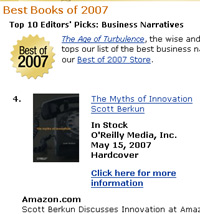 Amazon.com just posted their best 100 books of 2007. In the Business narrative category, Myths of Innovation shows up at #4.
On the full top 100, Myths slides in there at #99.
They don't explain exactly how they chose their books, which editors were involved, or how they voted, but I'm not complaining. There is a separate list of 100 customer favorites for 2007 that I assume is purely based on sales.
Thanks to all you blog readers for your support – this kind of stuff doesn't happen for me without your help spreading the word. Cheers.