The best book I read in 2007
I'm nuts about books. I finish a book a week, and abandon many more. Looking back on the year, picking a favorite, #1 book to recommend is easy – that's how much I enjoyed this book. It's Over the edge of the world, by Laurence Bergreen.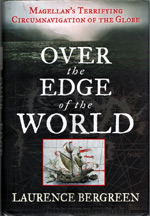 The book tells the wild, nearly unbelievably difficult tale of Magellan's expedition to circumnavigate the world. In short, everything goes wrong. Mutiny, starvation, politics, bad project management, and on it goes. There's also what has to be one of the greatest idea pitches ever ("Yes, I will go all the way around the world, requiring several routes no one has discovered yet, and you will pay for it"). And it's all told with the perfect balance of tight, thrilling storytelling and historic detail.
I love books like this for their power to humble: they put all of the challenges and complaints people have today in relief. Nothing any entrepreneur or middle manager faces today even approximates the risks, suffering, and significance of what these historic figures did. Finishing this book I felt inspired by the realities of what Magellan and his crew did, rather than the false, simple tale I'd learned as a kid.
It's a great gift choice for anyone interested in innovation, how progress happens, how myths compare to realities, project management, people management of all kinds, and well told true adventure tales.
Over the edge of the world: Magellan's Terrifying Circumnavigation of the Globe, by Laurence Bergreen.