The new name for the artofpm book is…
Three months ago, I asked all of you to help me decide the name of the revised edition of the art of project management (if you want to know why we're changing the name, read that last post).
After more than 300 votes, here's what won: Making things happen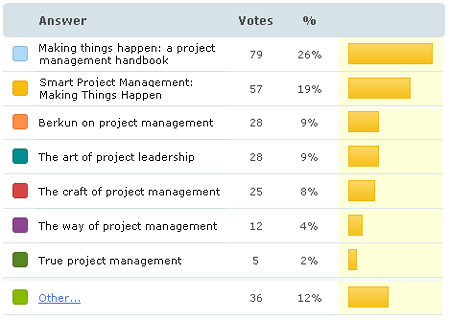 After many discussions with the fine folks at O'Reilly, the final name is Making things happen: mastering project management. I'm excited about the name! My favorite chapter in the book is #12, the one called how to make things happen, and now it gets top billing.
For those interested in the behind the scenes drama: this was not a fun process. Like naming a child, naming a book is something one only expects to do once. If you don't like the outcome, or the fact that there is a name change, I understand, but do consider this was 20 times less fun for me to deal with, than it was for you.
What's most interesting is this – behold the power of the web! You guys say it and it happens! I must thank all of you who took the time to vote: the ability to point to data from actual customers played a key role in my discussions with the editors at O'Reilly Media on the new title.
The revision is well underway, and I'll post more about it, and its timeline for release, soon. In related news, the existing book will be out of print soon, so pick it up if you want a collectors item.
For fun, here were some of the best, and funniest, write in votes:
TBFKATAOPM2 (The book formerly known as…)
What the #$!#!@$% is Project Management and How Did it Get inside this book?
Projects. Managed. Berkun's Way.
Kill the messenger
Who stole my project manager?
Real world project management
How to make enemies and derail projects in 5 minutes a day
OH MY GOD, HOW DID I BECOME THE PM?
The bible of mastering the zen and art of agile project management for dummies
From bad to worse: how bad managers become horrible
Who stole my project manager?