Writing books is hard enough, but selling them is an entirely different challenge. While I've learned much, I'm no expert. What follows are my experiences which hopefully will interest those who know less and simultaneously attract the opinions of those who know more.
With that in mind, here's part 3 of a series I've been doing on the sales life of my books (part 1 and part 2, were about my first book). It's almost three months into sales for my 2nd book and that's focus of this post.
Sales summary
Through use of the ever-handy rankforest.com, here are the first three months of sales rankings on Amazon.com for my latest book. Of course amazon.com rankings tell you nothing about what goes on at physical bookstores or over at bn.com, but it's an easy, free indicator of how well a book is selling.
The Myths of Innovation, Amazon.com sales 5/15-8/15:

And for comparison, below are comparative sales rankings for The art of project management for its first 3 months of sales. The graphs aren't to scale, but it's easy to see that my first book (below) had slightly better amazon sales rankings than my 2nd (above). Both sets of numbers are respectable: both books have hovered on and off various amazon and O'Reilly bestseller lists, but the question is, what explains the difference in sales? Shouldn't a successful book aimed at a bigger audience generate more sales?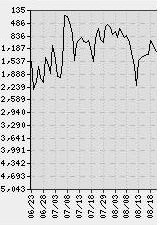 PR summary – For Myths of Innovation:
By comparison this is more than twice the amount of PR effort, in terms of my own time, than for The art of project management.
The surprise has been that despite the increased effort, a better written book, and a higher profile / sexier topic, the new book has sold well, but trailed The art of project management by comparison for their respective first 3 months of sales.
Assumptions / Lessons learned:
No one fully understands sales. Everyone has an opinion, sure, but no one can predict what happens or explain why (but watch them take credit after the fact :). There are too many factors, many beyond the control of the author or publisher. I've yet to get expert advice that didn't contradict advice from another equally reputable expert. Remember, some great books fail to sell, and many awful books make bestseller lists. Most editors / agents / publicists require several rounds of cocktails before they'll admit what happens is beyond their control or, at times, their comprehension.
Sales oversimplified is easy. The only productive formula is: quality of book + ability to connect the book to interested people with cash to spend. That last part is important: it's not TV ads you want, it's finding people naturally interested enough to buy. If you're writing about widgets, odds are high you know better where to find those naturally interested in widgets than your publisher or publicist does, and you know what messages are most likely to entice them. For Myths, as a more general audience book, the messaging and targeting was harder to develop.
Assumption: bigger topics sell better. I assumed the Myths of Innovation would have a larger audience than the art of project management, since the topic of creative thinking and innovation are much broader, and more compelling, than the topic of managing projects. The book is a much better read on a more important topic, written in a journalistic, fast paced, comical style. But I've learned the broader the topic, the more competition there is. To make a dent in a bigger category requires more effort, more word of mouth advocates, than a niche book. There are fewer writers writing about project management, and the bar for scoring a sale is lower. I'm convinced Myths can outsell The art of pm, but it may take longer to happen.
Is PR for web/blogs more effective than PR for mass media? Looking back over my PR hours, my bet is that on a per hour basis, time spent pitching bloggers and online writers paid off in more sales than radio, podcasts or other mass market PR did. The data is better too: I can track the day a major blog review hit to spikes in amazon.com sales, but I can't say that for any podcast, book tour lecture or printed review. This post by the current holder of the NYT bestseller list #1 slot goes further, claiming his success was entirely based on attracting online attention.
Overall, my plan is to keep learning. My goal is to be a career author so any positive PR, even PR that doesn't translate directly into sales, may pay off for the next book or for the next speaking gig. But if you know something I don't, have advice from experience or your own war stories to share, please chime in.