Video/podcast from my talk at Lunch 2.0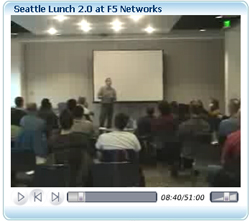 The talk I did at Lunch 2.0 a few weeks ago at the F5 office in downtown Seattle is now online. You can watch the video, or download an mp3/podcast. It's an interactive Q&A about innovation and invention, ~45 minutes.
Fun stuff, no slides, and some good questions. One factual error: I claim Swift had the patent for the light bulb, but it's Swan.