A magic day in Pittsburgh: MAYA Design & CMU
I had a secret. Back as an undergraduate at CMU, I'd see authors visit and lecture in the Adamson wing, this cool auditorium style room in Baker Hall. When bored, I'd imagine what I'd have to do in my future to earn an invite and speak to students in that same lecture hall.
Last week I got my chance. The magic day started with an invite from Paul Gould at MAYA design to stop by their swanky South side office for a tour, and a fun brownbag lunch. They have these awesome meeting rooms called Kivas, which are round, have floor to ceiling whiteboards, and invites the kind of communication and interaction that makes for great design sessions. I met some great folks and got warmed up for my afternoon talk at CMU.
Here's me in MAYA's Kiva:
And at the Adamson wing lecture hall at CMU: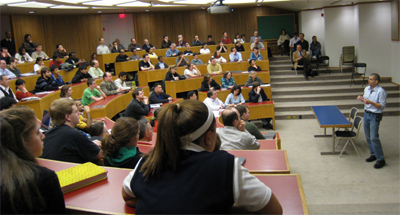 The kicker was I got to see David Hounshell, the professor of the amazing history of engineering class I took as an undergraduate, that planted the seeds that led to writing the Myths of Innovation.
And to finish off the day, dinner with friends Faisal, Aleecia, and Eden Fisher, the latter being the prime mover in bringing me out to CMU this year (Thanks Eden for a most special experience).
Thanks to Paul for the photos of a magic day.