Help me plan my Amtrak Writers Residency
I'm honored to be one of the winners of the Amtrak Writer's Residency. All 24 winners were announced last year, but I finally managed to work it into my schedule this fall. Here's the route I'll be taking over 6 days, later this month: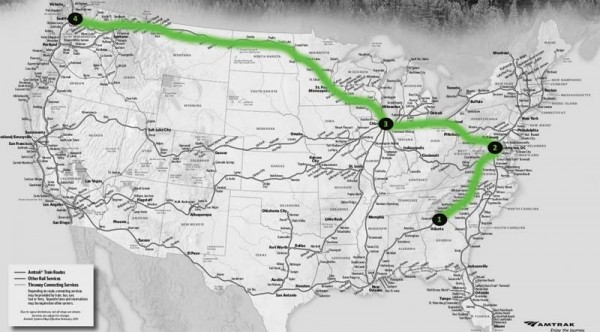 Day 0: Flight to Atlanta (not on a train, but I'm counting this as the start of my residency)
Day 1: Atlanta to Washington DC
Day 2: DC to Chicago
Day 3-5: Chicago to Seattle
Decisions I have to make (input welcome – leave a comment):
What do I work on (vote below)? I can work on anything I like, and if you're been following me for years you may know I have three unfinished book projects: A) Finish the philosophical techno thriller novel I've worked on (and off) for 20 years B) the book about the London Underground (untouched in years) C) Return to my book about religion (stalled in April 2015 due to burnout) D) Start something new E) Write about the residency trip itself.
What should I pack? I've never been in a sleeper car on a train before, or done a long haul train trip. I'm excellent at traveling light, but wonder if there's anything special I should bring.
How do I get exercise? I'm a fitness junkie and I'm worried I'll go insane stuck in a box for so many hours in a row (I imagine myself driving passengers crazy by running up and down the aisles all day). I'm even thinking of using the two layovers I have in DC (4 hours)  and Chicago (5 hours) to taxi to a gym, get a workout in, and then get back on the train.
Should I tweet and blog, or go dark? It can be annoying to follow someone on a trip like this as many people don't want to hear micro updates. But the journey itself will be fun to document in real time and if I knew there was an audience for it I'd give it a try.
Dinner before I go? Anyone want to join me for a kickoff dinner in Atlanta on 10/23 or 10/24?