How Apple got everything right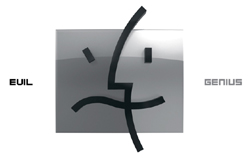 The recent Wired article on Apple's management practices is interesting for the wrong reasons. The article makes several points about the irony of Apple's popularity in the tech-world given the secrecy, an old world concept in the new open web 2.0 world, with which they work.
This is fine and good, but the big question I had while reading the piece is this: if Apple is so secretive, how can the reporter have any confidence that their sources are any good? Or that the people willing to talk to the reporter don't have their own reasons for telling less than flattering stories about Steve Jobs? The article says:
Apple creates must-have products the old-fashioned way: by locking the doors and sweating and bleeding until something emerges perfectly formed. It's hard to see the Mac OS and the iPhone coming out of the same design-by-committee process that produced Microsoft Vista or Dell's Pocket DJ music player
The old fashioned way? Hard to think of many old fashioned companies making perfect products. And while it's hard to see the iphone coming out of the same process at Microsoft and Dell, I'm sure there were plenty of design review meetings, executive reviews, and other meetings at Apple that are similar in purpose to what goes on at Microsoft or Dell. Like Google's 20% time, culture is the overlooked factor in why outcomes are what they are. The same process can arrive at very different outcomes if the cultural values and rewards are different.
Believe me, I'm no Apple flunky defending the mothership – but the article creates it's own lack of credibility in making judgments about a place described by the writer as very difficult to access, and because it's a magazine article there's no burden of referencing sources, or even calling on other Wired writers for context in how product decisions at Apple are made.
Moreso, the article misses the fundamental point: Apple loves its products, and people love its products. If there is any ideal Jobs represents it's clearly the attempt to make great things, an ideal rare among tech companies, much less ones in the Fortune 500. And with product quality so high consumers are indifferent to whatever management philosophy is behind it.
The best analogy for the description of Apple offered in this piece is the film industry. Where directors and producers drive creative visions, large numbers of experts work hard in service to those ideas, and the entire endeavor is organized with premiums on secrecy and control. It's just an artistic model for business, not something unique to Apple or that odd for folks who study how great things are made.