How to let go: a lesson from NASA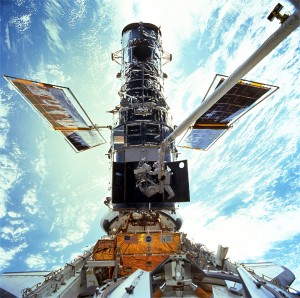 Everybody likes to criticize NASA for various reasons. There's the budget problems, various $100 million blunders, and of course the aging space shuttle program.
But one thing they are doing right with the Hubble telescope is planned obsolescence. This current space shuttle mission is the last act NASA will take to repair the Hubble telescope ever.
They know that in order to build whatever will replace the Hubble, they have to let go of Hubble, even if that means letting it die, so they can have the funds and resources to invest in the next thing (It's called the Webb telescope and it's made from Beryllium – sounds like Star Trek).
And the space shuttle is also being put to rest. With 9 missions left NASA is finally moving on, using the resources consumed by the shuttle for the next big thing.
What old ideas, products, services, habits, assumptions, excuses, will you let go of to make room for whatever you want your future to be?
If they can ditch the Hubble and the shuttle, I can ditch something too.