Where do your ideas die? (With a bad illustration)
I'm stuck in the Vancouver airport, waiting for them to find a new plane. Hard to complain about waiting for a new plane, when the old plane broke. Tell me the current plane might explode and I'm happy to wait, thank you very much.
Waiting at the gate, in between trying not to strangle the kid dancing precariously close to my luggage, and the guy with laptop problems on my left who has his volume set to 11 (I will be hearing the Windows startup song in my sleep), I made a sketch for ideas in organizations.
The arrows are the paths of different ideas. The box in the middle is the organization.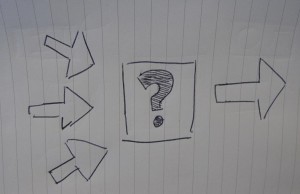 Whenever leaders want more innovation, they typically start by adding more inputs into the process. They seek out more ideas. Hey, let's brainstorm! Or maybe we should crowdsource! Or how about getting everyone to mindmap!
Executives often do this flinchy sort of thing and it's big news at many corporations to start "idea programs" to encourage people to submit ideas.
These programs are launched, ideas are submitted, and there is much rejoicing.
But little change.
The reason there is little change is that idea inputs were never the problem. The bottleneck was further upstream. Crowdsourcing, brainstorming, mindmapping, and the dozens of other techniques people obsess about help create early idea volume, but do little to help the curators, the people who winnow down the hundreds of ideas down to dozens, and dozens down to a handful.
It's much more useful to study where the bottlenecks are, when and why new ideas are killed, and who the people are that are killing them.
If you have 1000 new ideas a month, but 0 prototypes are ever made from them, what good is another 2000 ideas? It's much better to study why there is no time or rewards for prototyping and focus on getting that number to go up.
An easy diagnostic for innovation is the list of 10 stages – Where do ideas die in your world? That's the place to study and make changes to help ideas survive longer in your organization.
The real challenge is getting ideas out the door – not how you generate ideas. It's more useful to study how ideas die – what reasons are used? Who has the power to do it? And when and why are they using it?
Sorting out the lifecycle of ideas in an organization requires study and thought, while slapping more idea generation techniques on the front does not.