Applying Jazz to workplace creativity
Months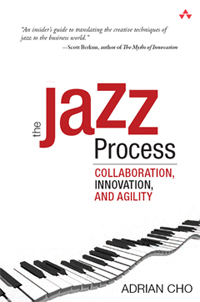 ago I got a sneak preview of a book on two of my favorite things: the making of music and how teams in the work world function. I'd thought someone should explore crossovers between these worlds and thanks to Adrian Cho, that book now exists. It's called The Jazz Process.
Adrian is clearly a special man with diverse talents – he directs the IJO jazz ensemble, yet also  manages teams of software developers. He's the right guy to take this topic on. The book is finally out now and I interviewed him about the book.
SB. The corporate world seems superficially about as far from jazz, or any kind of music, as an environment could be. What made you think concepts from jazz might have value in the workplace?
AC: Jazz is an exciting and engaging style of music and method of performance. It exploits collaboration, innovation and agility through individualism, exploration, freedom and democratic decision-making. In the best jazz ensembles the musicians move easily and frequently between leading and following. According to stereotypes, corporations exhibit none of these traits. Instead they are conservative, rigid and steeped in conformity and compliance that discourages people from taking risks, moving too quickly, or treading beyond job boundaries.
There may be some truth to these stereotypes, but in many small corporations and in enclaves of excellence within large corporations, there are teams that perform very much like small jazz ensembles. There are also large corporations that recognize the need to apply principles of agility and innovation on a larger scale.
It's important to separate domain-specific skills from general skills of collaboration. Along with jazz musicians, software developers, basketball players, and soldiers must possess specific skills to excel within their domain. The difference between these skills is obvious, yet each of these individuals must also leverage general skills of working together and overcoming challenges, allowing them to excel within their respective teams. Although it's natural to look toward fellow disciples when seeking solutions to problems we encounter in our work, some of the best inspiration can come from people working in completely different disciplines.
Based on your book, musical improvisation seems heavily based on teamwork and trust, rather than on brilliance and going your own way. Do you find this counterintuitive notion difficult to explain to non-musicians?
I don't find it difficult to explain once I've described some fundamental concepts. Most people have been in situations where they found it difficult or impossible to execute because they could not trust their colleagues to play their parts.  In jazz, as in other fields, the more one wants to explore and stray from the comfort of well-worn trails, the more important it is that such forays are supported by solid execution from others. It's hard to take risks and explore unknown territory when you constantly have to worry that the foundation underneath you might fall apart.
Success in a team of brilliant individuals requires a balance between individual expression and team cohesiveness. It also requires an appreciation for the notion of team and project health and the ways in which instability can degrade health. Instability is an important element in high-performance teams, as I outline in the book, but when things become too unstable chaos can ensue and ultimately lead to crashing and burning.
As I understand, musical process is taught to young musicians almost entirely by playing with more experienced musicians. It's an apprenticeship model. Do you think this exists in the corporate world, or the tech sector?
Should be it used more, especially where creativity is concerned?
Mentoring does exist in the corporate world and it should be used more but it needs to take a different form. In business, mentoring tends to exist in one-to-one or one-to-many forms. Individual mentoring exists in jazz too, but what's most interesting is how jazz musicians learn from situations of immersive many-to-one mentoring. When presented with the opportunity to put together a band, young jazz musicians are often advised to hire musicians who are all better than themselves.
In this way the budding musician can directly observe and participate in collective improvisation of a higher order. It's not learning creativity alone that is interesting but rather creativity in a group where everyone is putting out ideas simultaneously and everyone must respond to the ideas of others. This is why play-along records have limited value for learning how to perform jazz in a group.  One can certainly learn all the fundamentals of improvisation in this way, but there's no interaction; there is no opportunity to learn how and when to lead or to follow. The soloist  does not learn how to respond when the pianist unexpectedly alters a chord or plays a substitution, or when the drummer riffs on a particular rhythm or when the rhythm section changes into double-time. In the corporate world, people are often unwilling to put together teams in which they are the least experienced person for fear of losing control.
Do you think jazz musicians can learn anything from how corporations work?
I've certainly learned some things from managing in business that I have applied to leading bands. However these are also things I could have learned in music alone. This affirms my belief that many fundamental and important principles are widely applicable. For example, it's wise to have balance in a team with some people having a healthy appetite for risk and others who are risk-averse. In music it can be good to have people that play ahead of the beat, and others who play a little behind it, and others who play right on top of it. If too many people play ahead of the beat, then the music will rush; if too many play behind it, the music will drag. Jazz musicians and businesspeople alike can learn a great deal from one another.
In the Coda of my book I wrote that the book could also have been called "The Basketball Process" or "The Warfare Process." There are also many opportunities to learn from nature. I can discover a lot from the behavior of a pack of wolves, a pride of lions, or a colony of beavers. Animals have been working together for a lot longer than humans have. There are many opportunities for learning and we can benefit from these if we're willing to open our minds to the possibility that not all knowledge about productive teamwork is confined to just one field.
————————–
You can download a sample chapter from the book, check out the book's website, or buy it straight from amazon.