Book review: The War of Art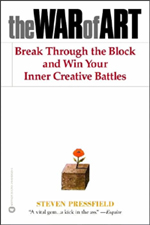 I didn't like this book. It was just too unintentionally silly to like. Now I know silly books can be meaningful or moving, or just plain fun, but this one is hard to recommend. It's particularly hard to suggest it to anyone in serious pursuit of writing or making of any kind. It's too weird, dramatic, and fanciful, and the good advice and thinking it does contain is often buried in indulgence. You can find equivalently good inspiration without these flaws.  The book you should read instead is Art & Fear (more on that shortly). It's cruel to say, but it's the book Pressfield should have read first.
There is a fantasy among people who want to write that inspiration is the challenge. If only they had sufficient inspiration, all other problems would fade away. They imagine writers as people who are inspired all the time, which is nonsense.
But it's a convenient fantasy, and those who buy into it tend to believe two things: a) obtaining passion is the hard part and b) it can be found in a book.  It's these people who buy books like the War of Art. They prefer mystical, romantic and even supernatural explanations for what writing or art making is. A narrative of WAR is what they want, as it shapes the universe as a battle, with forces of good and evil, and you, the reader, get to imagine yourself as the hero in this epic conflict.
As an exercise, this is fine. As a metaphor, it's useful. But as a literal way to think about the daily practice of making things it's absurd. Worse, I think it's destructive for learning how to write, especially for new writers. There are much better ways to explore why writing is hard, particularly the notion of blocks.
The first half of the War of Art is a reasonable attack on the psychology required to make things, and this much of the book I'd recommend. He writes just a paragraph on most pages. Short notes on the fight and how he fights it, plus anecdotes from famous figures, and his pet theories on psychology. Some of it is good and moving. Other bits are cliche, cheezy or overly dramatic. As a light read for getting psyched, I was often moved and entertained. But the annoyances and wanderings increase as you read. After two of my favorite sections ( How to be miserable, We're all pros already), which came mid-way through the book, I had an increasingly hard time continuing. It was hard to finish the book's 165 sparse pages.
The problem is Pressfield (Author of the Legend of Bagger Vance) likes his fantasies. It's clear he depends on them to work. This may work for for him, but as a model for others? With no offering of alternatives? He gets lost in them in this book and will lose inexperienced writers in them too. As the book progresses his central arguments shift to mystic forces, with the task of creative work scrambling into literal notions of angels and gods and their pivotal role in writers and their work. If you like books like The Secret and find the Law of Attraction useful in your life, and you want to write, you'll like this book, as it bets on similiar faith in the universe and forces beyond our control as its central, or at least concluding, theme.
Otherwise please go read Art and Fear instead. It achieves all of the aims of The War of Art with more grace, honesty, concision and power than any other book on making there is. Bradbury's Zen and the Art of writing is also excellent, without any self-indulgence or dependence on mystical metaphors.
Meanwhile, read my post on How to write a book: the short honest truth.