Coming soon: Myths paperback edition!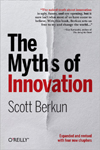 The original edition was published in 2007. It was a charming little book, that disarmingly changed how people thought about ideas, so they could be more successful working with ideas on their own, at work or in life.
The original was a popular book. It was a bestseller for O'Reilly Media, and got praise from all kinds of places, like lifehacker, slashdot, MSNBC, the NY Times, and even got me on as a co-host of The Business of Innovation series on CNBC. It was an amazon best book of 2007, and a finalist for the 2007 Jolt awards. And most important of all, it's actually fun to read.
This new edition gave me a chance to make the book even better.
More Useful: Four new chapters. One major chapter called "Beyond Hype", focuses on putting the lessons from the book to work in your life, and three heavily revised essays on creativity, pitching ideas and staying motivated.
Tighter: We fixed typos, broken references, and errata.
Prettier: Shiny, dramatic cover (we lost the rotary phone, but C'est la vie).
Handier: travel-friendly size, w/ clever flap-o-matic design (keeps your place)
Better: Every chapter was cleaned, washed, and buffed, with improved references, and some additional stories.
If you've never read it before, now is the time. It's the best edition ever made (ok – there are only two editions, but still).
The book hits stores early September, but is available for pre-order now.