How great author events happen (biznik)
Two weeks ago I spoke at a fantastic author event in Seattle run by Biznik. I speak in lots of places for many reasons, but this was one of the best run and most fun events I've done in some time. Biznik partners with Kim Rickett's Book Events, St. Michelle Wine, and Hotel 1000 to make it happen.
We had a sold out crowd of nearly 100 people and I'm pretty sure everyone had a great time.
Here's the recipe:
Real events, w/food & wine, set people's expectations to be social.
People in social moods are happier, more open minded and have more fun.
Choice, non-cubicle farm venues changes the vibe / tone for the better.
People gets the book w/admission, preventing speakers from giving sales pitches.
By forgoing slides or canned presentations it's more intimate and interactive.
Thanks to my photographer friend Shawn Murphy, here's the story in pictures:
1. The event was held at Hotel 1000 in Seattle, on their 4th floor. There's a full bar, some snacks, a lounge, and a room that can be used as a small auditorium. The doors opened at 5:30pm and folks could mingle, network and chat.  I was there early (that's me in the blue on the right) and met and talked with lots of folks.
2. At 6:10, we moved over to the main event, a talk about my bestseller, The Confessions of a Public Speaker, and as everyone who comes gets a copy, I signed a few books right before we got started.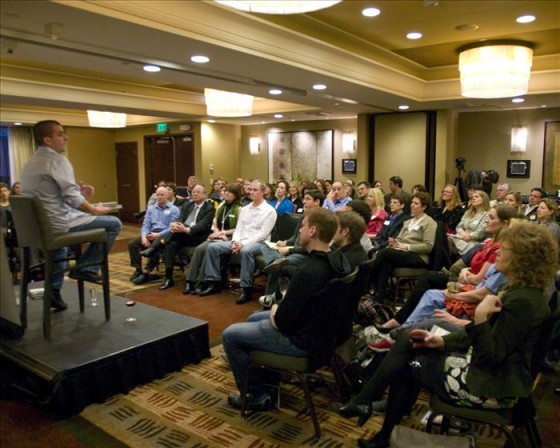 3. For the main event, I went without any slides or formal lecture. I talked for ten minutes giving my story for how I ended up being a writer and speaker, which is enough for a smart, active crowd to find plenty of questions to ask. So we had a lively and quite funny Q&A for over an hour.
4. When you go solo, with no slides or props or anything, it's always much more intimate. I'm comfortable with this, but often at these Biznik events Warren Ethridge acts as host, sort of like James Lipton on In the Actor's studio.
5. After the talk, they set up a signing table and helped make things work as easily as possible. People in line were given post it notes to write their name on, so the author (me in this case) can more quickly get the spelling right, and spend more time chatting with people rather than dealing with the mechanics.
5. And then as things wound down, and the wine took its final hold, things got silly and fun.
You can also see a short video about this author series, which includes some short bits of me in action: