How U2 gets ideas for songs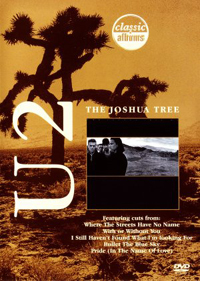 In my never ending study of how people work with ideas, I watched Classic Albums – U2's Joshua Tree.  Unlike most behind the scenes documentaries, much of the 60 minute film is the band and the producers (including Brian Eno) discussing how certain songs were created, composed and mixed, often while they are in front of mixing boards playing with the raw tracks.
Here are some highlights:
Adam Clayton (bass) explains how half the songs on Joshua tree are expressions of a musical idea first, and often those ideas are arrived at collaboratively. Then Bono works to find a lyrical idea based on the emotional content of the music.  The other half of the songs are ideas Bono or the Edge bring to rehearsal, in wide range of (in)completeness that they develop together.
About the song 'With or without you':
"I can see that it [With or without you]  was so out of step with everything around – it was mad. It was kind of ecstatic music – kind of gauche and uncool but with a kind of highness to it. A highness that works so well live. Of course when you sell that many records and you hear me say it was out of step with the times you want to slap me around the face, but it was going into it. And something that is a staple on the radio now, like with or without you, got to understand is a very odd sounding song, it just sounds normal because you've head it so many times. But it kind of whispers its way into the world and this odd guitar part that's played on the edge's infinite guitar, it's an unusual sounding record"

– Bono
On how not being cool can be a creative asset:
"Coolness is a certain kind of detachment from yourself.. it's not exposing of something of yourself"  – Brian Eno
About the need for iteration:
"that's the story of our records – they start with ideas either quite simple or quite abstract and then they get brought into focus slowly"
– Edge
Why Where the Streets have no name took longest to create:
"[The edge had a riff that was in 6/8 time and was trying to figure out how to get from] 6/8 to 4/4 time for where the band come in. At the time I didn't appreciate the hours of thought that had gone into the idea – it just seemed like a way of fucking the hand up. So he had the beginning and the end but he didn't really have the bit in the middle, so we would spend interminable hours figuring out chord changes to get the two bits to join up. Which is why it drove Brian (Eno) mad"
– Adam Clayton
On why starting from scratch can be the fastest way to a solution:
"That song [Where the streets have no name] was recorded, so there was a version of it on tape. That version had quite a lot of problems. What we kept doing was spending hours, days and weeks… probably half the time that the whole album took was spent on that song, trying to fix this version on tape. It was a nightmare of screwdriver work. My feeling is it was just better to start again. I'm sure we would get there quicker if we'd start again. It's more frightening to start again, because there's nothing. So my idea was to stage an accident. To erase the tape so we'd just have to start again." – Brian Eno"
If you're a fan of the album I'd recommend watching the whole thing – It was fascinating to see Bono listen to his raw, early vocal tracks for different songs and talk to the producers about it. And for fun, at 38:05 one of the producers mixes together a DepecheMode / Pet Shop Boys version of Where the streets have no name in real time on camera.
Also see: Springsteen on Creativity