Lessons from Google Wave and MSFT Kin
I'm a fan of things going wrong. It's only when things go wrong that anyone pays attention enough to really learn something, or get the courage to try something new.
Recently there were two high profile failures, at two Fortune 500 tech companies. Microsoft's failed cell-phone Kin, and Google's hard to define Wave. I thought it'd be fun to compare and distill some lessons.
Change requires a champion: Kin is one in a long line of failures for the mobile space for Microsoft. Although it was formed by a different group, and led with a different vision, it was canceled a shocking handful of weeks after its release. This generally signifies senior management failure: a rule of thumb is either can it before it launches, or give it the runway it needs to succeed. To kill a product after 40 days signifies several layers of mistakes or a (poorly timed/surprise) changing of the guard. The exit of VPs J. Allard and Robbie Bach, seems like a link in the story. Allard is the story behind XBOX, one of Microsoft's best stories around innovation.
Google Wave was weird, but cheap. Compared to Kin, which likely involved dozens of people and man-months, Wave was likely done by a small team of people. That was their biggest cost! If you're going to have failures, even visible ones, better cheap and small, that expensive and large.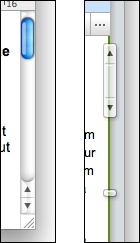 As a rule, any software in this century that reinvents the scroll bar deserves to fail.  Sure, there might be a better design, but what do you gain in putting your neck out for it? There's just no reason to place a bet, even a side bet, on a scroll bar and perhaps that's it – wave was just weird. It was interesting, but often in the wrong ways. Whatever goodness might have lurked inside, it was hidden inside an onion of seemingly odd choices that required a lot of explaining. And it was slow too. Weird and slow negates most other kinds of goodness because few people will stick around long enough to experience them.
However the fact that Wave stayed out in the wild longer than Kin means the team that made it got a chance to learn tons. This is awesome. This is smart. They got to be involved in a live, mass market, real time experiment in trying to do whatever it was they were trying to do. For them, Wave is far from a failure. It was one of the best learning experiences they might ever have.
The Kin team however, having had the runway pulled out from under them, likely learned nothing. They're probably bitter about all of the concept sacrifices they had to make to get it out the door, and likely blame those sacrifices for why it was as poorly received as it was.
But worse, I suspect there won't even be a postmortem written for the team, or the company. The lessons of Kin will likely die with Kin, instead of being shared openly so everyone learns from the multitude of experiences the smart people on the project had.
An easy metric of innovation culture is learning – are people at all levels learning, sharing and growing from whatever happens, good or bad. Not lip-service. But actual learning, where people admit their own mistakes or oversights and what they themselves might have done differently (rather than the witch-hunt many big companies confuse with learning).
This starts with the leaders, and the leaders on Kin or Wave have much fodder to work with. Are they going to share what they learned? Progress awaits if they do. But resentment, confusion and high odds for the same mistakes being made again will fester if they don't.
Anywhere that people learn from success and failure will outpace places that lack the courage to look at failures with their eyes open and learn from it, as well as places that don't learn anything at all.