Willy Wonka in Smell-O-Vision: review
The Seattle Film Festival theater has a special showing this month of Willy Wonka and the Chocolate Factory, in Smell-O-Vision. Yes, Smell-O-vision. As an invention historian I knew about Smell-O-Vision, one of many failed attempts to revolutionize the movie theater experience and had to check it out. I wasn't alone: the line went out the door and the theater was packed.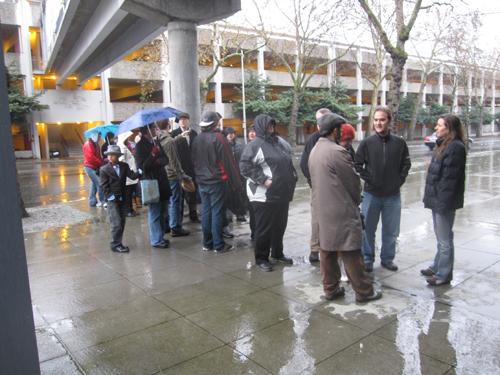 To my initial disappointment, unlike the original Smell-O-Vision, or its arch-rival AromaRama, SIFF didn't bother to install expensive ventilation systems  to pump artificial scents into the theater. Instead they went with a low frills approach – each person received a paper bag filled with candy and smelly things. This turned out to be exceedingly clever and worked far better than those fancier systems ever did.
The pre-show instructions, delivered by our very own Oompa Lumpa, explained that on-screen prompts would tell us when to smell, eat, chew or open the various objects in our bags. He also told us that "tasting is just smelling with your tongue".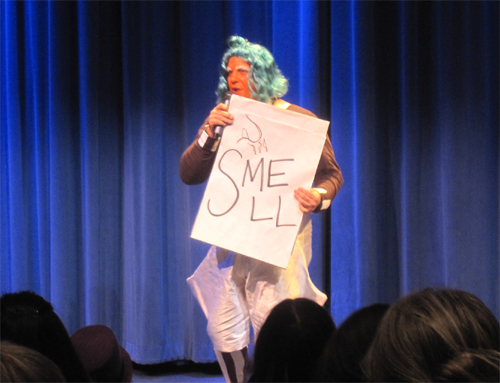 Here you can see what the on-screen prompts look like.   They also showed subtitles for all the lyrics to all the songs in the movie, making it a sing-a-long as well as a smell-a-long.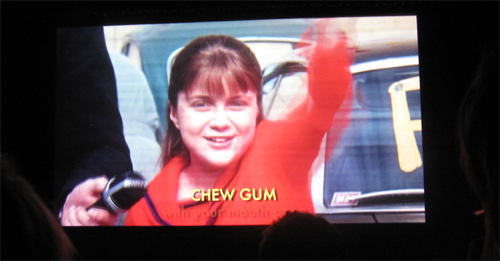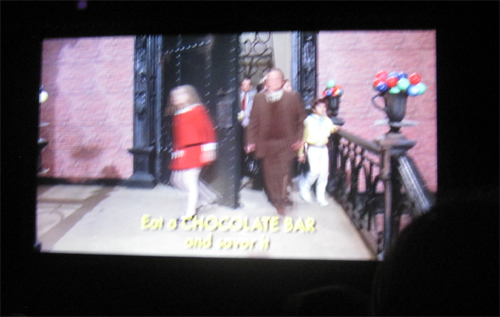 And it worked well. When 200 people all start eating chocolate at the same time, the room does smell like chocolate. When everyone eats cherry bubblegum, it smells like cherry. This simple approach to the problem was definitely more effective than Smell-O-Vision ever was.
A particularly fun moment is when Charlie and GrandPa Joe are in the Fizzy Lifting Drink room – in the theater we were instructed to blow bubbles, and blow we did, filling the the theater with the same bubbles that were on the screen.
The theater was 60% children, which usually means a nightmare of film annoyances. But this event was so fun, creative and entertaining, and the grand silliness of the movie, combined with all the activities everyone is supposed to do, made it great fun. I'm a fan of the film (70s satire at its finest) and this might have been the best experience I've had watching it.
If you live in Seattle, check the SIFF calendar.