Bruce Springsteen on Creativity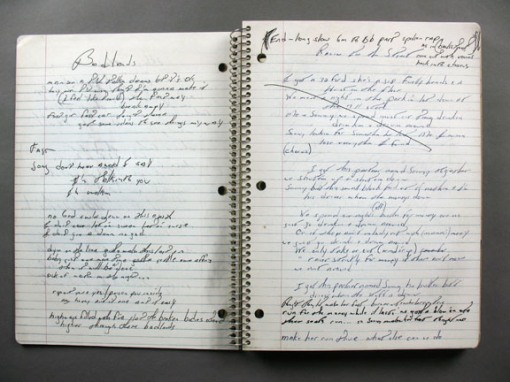 When I failed out of college and was stuck in Queens for a year, it was a mix tape of Springsteen songs I'd listen to every day in the car as I drove to work that got me through. I didn't prefer his more well known pop songs, but instead connected with his earnest storytelling of people in difficult situations, tales of facing life challenges in a sophisticated and elegant way I hadn't heard before.
Recently I watched The Promise: the making of Darkness on The Edge of Town, one of his earlier, and darker, albums. This documentary was recently released in a special remastered boxed set, with a copy of his song writing notebook (pictured above). The documentary is done right, with many long segments of Springsteen discussing his creative process. Here are some of highlights:
About Darkness on the Edge of Town:
"I think it's an honest record, and that's basically what I was trying to make… A reckoning with the adult world. [It's about] a life of limitations and compromises. But also a life of resilience and commitment to life, to the breath in your lungs.

Darkness is a meditation on where are you going to stand? With who? Not forsaking your own inner life force. How do you  hold on to those things? How do you do justice and honor those things?

Whats the part of life you need to compromise? Whats the part of life where you can't compromise, where you'll lose yourself if you do? What is sin in a good life? How do you carry your sins?"
On Success and being great:
"The success brought me an audience, it also separated me from all the things I've been trying to make my connections to my whole  life. And it frightened me because I understood that what I have of value [is] at my core and that core was rooted in the  place I'd grown up, the people I'd known, the experiences I had. If  I move away from those things… to go about your life as you desire, without connection… that's where a lot of the people I admired drifted away from the essential things that made them great. More than rich, more than famous, more than happy, I wanted to be great"
On matching the ideas in his head with reality:
"I fantasized these huge sounds, but they were always bigger in my head… the thing I didn't understand was the fundamental equation… there's only so much sonic range. We just assumed everything could sound huge."
On production:
"Bruce would write 5 songs to get 1 song" – Clarence Clemens

"There was a lot of multiversions of all kinds of things. We were always pulling things apart. I had a big junkyard of stuff as the year went by. If something wasn't complete I just pulled out the parts I liked, like taking the parts you need from one car and you put it in the other car so that car runs."
On the power of pop songs:
Part of what pop and rock promised was the never ending now. No, it's about living now. Right now. You need to be alive right now. For those 3 minutes it was all on. All of a sudden you were lifted up to a higher place of living and experiencing and there was this beautiful and ever present now.
On learning how to write:
I go back to most of my writing before greetings and most of it seems terrible to me. Your writing lots of bad words and bad verses.. You're artistic instinct is what you're going on, your artistic intelligence hasn't been developed yet. Hopefully that increases and develops.. At the time I'm going on instinct, and that's a wide open game. I'm following all kinds of paths and all kinds of roads, and I'm going is "that doesn't feel right" that doesn't feel right, that's how I'm judging.
On the magic of performing and making:
"You pull something that doesn't exist out of the air. It doesn't exist… on any given night when your standing there in front of you audience. Nothing exists in that space until you go 1,2,3,4 VOOM.  You and the audience together manifest an entire world. An entire set of values. An entire way of thinking about your life and the world around you. An entire set of possibilities. That can never be taken away."
I also rediscovered Springsteen's interview on Charlie Rose, where he also discusses his creative process.
On working habits around writing:
"I wish I did [write every day]. I've gone for a long period of time without writing… because I didn't have an idea. Or whatever is in there is sort of gestating. Its hard to believe, but I think that I've gone long periods of time w/o doing much writing. I've gone thru difficult periods of forcing myself to write. I think what happens is you move in and out of different veins.. you're mining, and you hit a vein, and then you go with that, and then it dries up.
On where his song writing ability comes from:
"There were a lot of teachers. I didn't think I had a great talent, I thought I'd be someone who had to work harder than the next guy. And when I was a kid I did work harder, I'd be in my room 8 hours, 6 hours [playing guitar]. At the dance I'd be the guy watching the guitar player all night long.

I felt like It was something I was going to have work at very hard to do well. And the rest is a certain amount of psychology that comes with what kind of person are you.

Are you a watcher?  Are you somebody who jumps in and is active right away or do you watch? Do you stand back and observe? My nature was always to stand back and watch the way things interrelate. What was going on around me. I was too frightened to join, I didn't know how to join in. Observation is a large part of my psychology.

And that has a lot to do with people who go on to write, or take their own thoughts and formulate them in to some thing. Result of a variety of dysfunctions that you've managed to channel into some positive and creative rather than destructive. It came out of that need to sort myself out… So part of it was natural, and part of it I worked really hard at."