Feedback without frustration (video)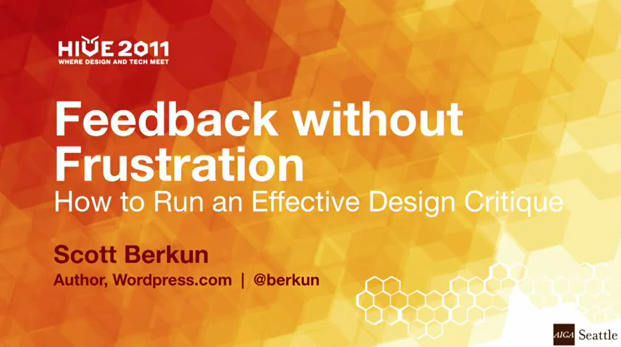 Last month I spoke at Hive, an event for developers and designers hosted by AIGA and Microsoft here in Seattle.
It was an exceptionally well planned event. They did smart things like keeping talk length down to 20 minutes, having a social room with a live-simulcast, and mixing in ignite talks for a change of pace. They also sent all the speakers a dossier on the attendees, with demographics on their background we could use to aim our talks at. It makes my job as a speaker so much easier when the organizers are committed to making the event a great experience.
Hive is releasing all the talks for free on youtube, which is why I'm posting. I spoke for 20 minutes about design critiques and how to give and receive feedback, which you can watch below:
The talk is loosely based on three posts (and inspired a chapter in the Dance of the Possible):