Innovation by Death: A Theory
One point from the often referenced, but rarely read, Structure of Scientific Revolutions by Kuhn, is true revolutionary progress happens only when a generation dies. That's right – death drives change. Kuhn mentions this point, but also debates it, and I likely put more faith in it than he did.
Consider how every group of people, from corporations, to universities to families, has a rank of leaders who are the old guard. Having been successful, they have much to lose by adopting change. And even the minority who are hungry and seek change, they are informed by sensibilities of the past, not the future. Their very existence in leadership roles prohibits the next generation, and the ideas of the next generation, from seeing the light of day.  If change is their ultimate goal, it's likely best served by them quitting and letting the new guard take over.
Kuhn uses examples from of science, and the assumption scientists revel in change. He points out how powerful deans at the great colleges, peer journal reviewers, and the grant providers, all have their guarded theories and philosophies they will defend, literally, to their death. It's only when the next wave of younger scientists rises into power, and become the new gatekeepers, that philosophical change, and breakthroughs, tend to happen. Or are accepted.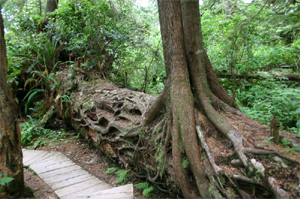 The U.S. Senate, and all governments, are dominated by leaders born decades before the rise, and fall, of fax machines. Obama is the first president in history with an email, and not paper, centric work lifestyle. Many Fortune 500 companies are led by people whose email is printed out for them, or for whom blogs, Facebook and twitter, are, to them, toys for their grand-children.
Anyone born after the rise of the web, or the iPad, has assumptions about the world those born earlier can never have (just as my generation has assumptions about electricity and mobile phones, my parents could never have). This child will never look at a keyboard or a mouse the same way I do. And until she rises into a position of power, power likely yielded to her by the stepping down of an old guard, that worldview will not be in a position to change the world.
In nature, death is the leading cause of life. Everything that lives depends on the death of something in order to grow. When trees fall, some become what are called nurse logs – their decay becomes the basis for the next wave of growth. By falling down and letting light shine through, the future begins.
For managers and leaders of all kinds, perhaps the best way to make progress happen is to get out of the way.
Also see: Innovation by Firing People