Mindfire day Dec 7th: can you help?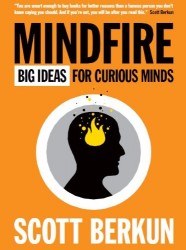 Behind the scenes I've been working hard to generate PR for Mindfire: Big Ideas for Curious Minds.  We're up to nearly 25 amazon.com reviews (thanks!) and lifehacker posted an excerpt. But as a self-published book, I need all the support I can find.
The groundwork is set and I've done what I can on my own:  it's time to ask for help.
On Wed Dec 7th, we're going to see how high we can get the amazon.com ranking for the book to go.  We'll aim at 12pm PST, but any time during the day helps.
Each sale on the day contributes to lowering the ranking.  Its been hovering around #13,000 for the last week. Can we break 8000? 2000? 1000?
If you have 60 seconds to help, here's what you can do:
Leave a comment saying "I'll help – Go Mindfire!" or something similiarly silly. By leaving a comment I can follow up with you via email to help organize. It will be very simple, I promise.
Mark your calendar for Wed Dec 7th.  And plan to tweet, facebook, blog, or dance suggestively in public (if that's your thing) about the book. (Click here to add a reminder to your calendar (.ical)).
Plan to buy the book as a holiday gift, or for your team, on Wed Dec 7th.
I'll provide more details, including sample tweets, facebook and blog posts you can reuse if you like.
If you want to sample the goods before you'd help with something like this, your wish is my command: Preview of Mindfire (PDF).
Thanks for your help and support.  I hope you'll leave a comment.