Mindfire preorders now up – via kickstarter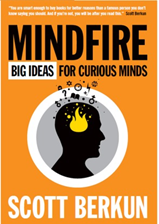 You can now place pre-orders for Mindfire, for kindle or print, by going to the brand new kickstarter page.  Beyond the book, there are fun items in limited supply you can get:
Get your name in the acknowledgements (if you pre-order before 9/1)
Signed copies of the new book
A package of all four of my books, personally signed
A one hour Skype chat – you rent my brain from the comfort of your computer
I'll travel to you (U.S) and deliver a lecture of your choice
Please check it out and help spread the word.
Important Note: I'm still working out the details, but it is possible I'll give the book away for free in some digital formats for the first few days, as a thank you to my fans. No promises, but I don't want anyone pissed if this happens.  If you're strapped for cash, and are digital only, wait until launch, first week in October.
To guarantee you get the book, or if you don't mind actually paying writers, go right ahead and pre-order now.
Pre-order Mindfire: Big Ideas for Curious Minds.
P.S. Cover design isn't final, but close. A post about the design coming soon.