Take my course on Innovation, online, right now
A secret project I did with O'Reilly Media is now available online.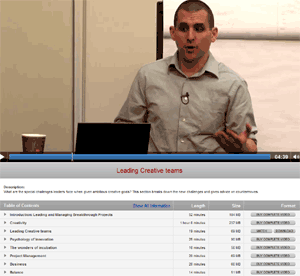 For years I've taught full day workshops around the world on how to manage breakthrough projects. Beyond all the hype, it's all the practical advice and time-tested wisdom I've learned from my own career and dedicated research into how others have made great things.
The fine folks at O'Reilly Media recorded one version of the course, with a live audience, and has now made it available online. They edited it down to a lean 3 hours and 55 minutes. No fluff. No nonsense.
The course includes chapters on:
Practical Creative Thinking
Leading Creative teams
Psychology of Innovation
The wonders of incubation
Project Management for Breakthroughs
The Business side of new ideas
Balance / Bringing it all together
Unlike the Myths of Innovation, which emphasized history and understanding, the course is focused on pragmatics –  overcoming challenges leaders and managers  face when working on projects with the goals of innovation and breakthroughs.
The  course's regular price is $99, but for today, it's available at a sizable discount (60% off).
Use discount code: CYBERMONDAY .
Head over here for all the details: you can even watch part of the class for free.