The fascinating history of Jelly Belly jelly beans (documentary)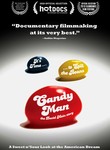 Recently I watched a documentary about the history of the Jelly Belly company, called Candyman: The David Klein Story (Netflix streaming).  I highly recommend it. It's an unusually honest and simply told tale about one man with many ideas, who changed an industry, with mixed feelings about the results.
What's most compelling about the documentary is the characters are so interesting. David Klein, the center of the documentary, is a charming and genuinely nice man, whose travails through the competitive world of candy manufacturing are captivating, fascinating and, and at times, provocative. It raises various questions to any viewer about how they might have done things differently, or if they even posses the inventiveness to enter those situations at all.
I highly recommend watching Candyman, as it's an unusually fresh and unvarnished tale of ideas, entrepreneurship, business and ethics, all wrapped around a tiny little tasty invention.
It'd make for great viewing this holiday season as it's a topic people of any age can relate to, and ask question about, leading to discussions about what you might have done differently. Perfect for the young inventor or entrepreneur in your extended family.
If you want to know what he's up to now, he's still inventing and selling all kinds of creative candies.
(Note: The original version of this post was lost to the angry muses of web development, and entirely re-written. If it seems different from how you remember, you're right).