Top Gun in Hecklevision: review
Weeks ago I saw the movie Johnny Mnemonic in a clever format called Hecklevision. In Hecklevision anyone in the audience can send text messages that appear on the screen. In my review I mentioned how the concept is interesting, but the particular movie and crowd didn't live up to the idea. I decided to give it another try, and last night I saw Top Gun, in Hecklevision at Central Cinema in Seattle. It was the killer movie for the Hecklevision concept.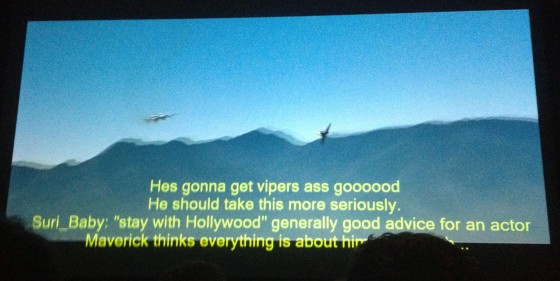 This time it was a packed house, even though it was a Monday night. And since everyone was very familiar with the movie, the heckling was much better. A high percentage of people participated rather than just watching which changed the vibe in the theater for the better. At times there were so many jokes appearing on the screen, they scrolled off while I was still laughing at them. As you'd expect the humor was often crude, but often clever too. I was impressed by how fast some people could generate funny comments. It seems the bigger the star, and the bigger the clichés, the better the heckling will be. In this regard, Tom Cruise at Val Kilmer turn out to be superior heckling material, compared to Keannu Reeves and Dolph Lundgren.
I'd definitely recommend Hecklevision if you can go with a large group of friends, or can find a showing of a popular film that will draw a big crowd.
For more about how Hecklevision works, read this.