Book Review: Microinteractions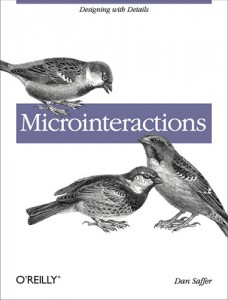 They say the devil is in the details, but the angels are in there too. That is, if you have a clue about what you're doing. People who want to design things have large egos and presume that they're skilled enough to work on large, grand ideas. But so rarely do designs in this world get the small things right, and if the small things, the little pieces that get used the most, are broken, what is the point of being large?
Dan Saffer's book Microinteractions is the best book I've read about design in ages. I've been working in design for 20 years and often have younger designers ask me for advice, or how to achieve their grand design dreams. Most books about design are similarly grand and presume that everyone knows the basics well enough to do the little things well. The world proves this not to be true. Spend an afternoon strolling around town with a gaggle of caffeinated interaction designers and you'll hear an endless commentary on the details the designers of the world have gotten wrong.
The book itself is a wonderfully self-consistent: it's short, concise, well designed and brilliant. The fun and salient examples nail Saffer's points, and his writing is sharp, incisive and with just enough comedic curmudgeonry to keep you smiling most of the way through. The book's ambitions, like any good design project, are clear. Saffer's focus is on the small sequences of interactions he calls, surprise, microinteractions. Ever been frustrated by entering your password? Leaving a comment on a blog? You've been let down by a microinteraction design. Perhaps the majority of design frustrations in the technological world are micro, not macro.
This is the book many designers will begrudgingly pick up, thinking it's beneath them, but by the time they get to page 25 they'll be thinking "oh, this is fun" and then by page 50 they'll realize "oh dear, I make that mistake, or have peers that do" and when they're finished they'll know "I now have a language to describe these important problems that have bothered people for ages but were hard to describe, and I have the knowledge now to fix them properly". What more can you ask for from a book about designing things?
We live in a world where the clueless have disturbing amounts of influence. There are no licenses required to use words like design, simplicity and quality, and it should be no surprise we're often victimized by the engineered junk companies pass off as products. If we want that to change we have to start in the small. Until a designer, or an organization, can consistently get the details right, what hope is there to get the grand things right either?
Please buy this book. I say that selfishly as I want better design in the world. But I also say it generously: so many design books are fluffy affairs, lost in abstraction and ego. Saffer has hit the bullseye of problems the design world desperately needs to solve, and written a book every designer needs to read.
A free chapter is here (PDF) and the book has its own website.