Book review: Your First 1000 copies – a guide to marketing books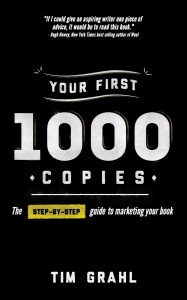 Last night I read Your First 1000 copies: The step by step guide to marketing your book by Tim Grahl of Out:Think. He has done book marketing for Dan Pink and other high profile authors, and the book outlines some of the methods he's used and why you should use them. It's a good book and I recommend it.
I've read several books on book marketing and this is the first one that was a pleasure to read. Grahl writes well, makes his points directly and unlike the majority of books written by marketers about marketing is calm, clear, hype-free and honest. Although short, the book doesn't read as a tease to hire his company (which many books do). He justifies the use of tactics that aren't sexy or the easiest to try, but the ones that have been the most effective. And most surprising of all (for a marketing book), all of his approaches are founded on treating potential readers with respect.
As far as methods: the central tactic he believes in is email, yes email, and how all his data points to its superiority for authors in maintaining connections with readers and leading to eventual sales. He explains why and  how and the book provides many links to his site with his latest answers for the best tools to use for everything he advises (a nicely done win/win for garnering traffic to his site). He offers a sane framing of twitter, Facebook and social media. Minor coverage is provided to blogging, speaking and other common methods.
I was also happy to see his charts that dismiss the singular drive to make bestseller lists, as many books with shallow marketing hit those lists once, and then have sales that plummet, as the marketing wasn't built to be sustainable. It's a rarely discussed fact that many books on the bestseller lists are outsold in the long run by books that never come close to having a bestselling week.
Grahl has been heaviliy influenced by Seth Godin, and if you're familiar with his Tribes ideas, some of Your First 1000 copies will be familiar in philosophy. To market a book you need to build a group of people interested in your work, and the ideas you represent, and the book is simply part of that system of exchange you have with followers. Grahl does detail how to do this, and does it with more precision for authors than you've probably seen before. But there's no gimmick or trick here. This is an authentic  permission based marketing approach to marketing books.
The primary weakness of the book, which perhaps isn't one at all, is the book requires lead time to be of use. It takes time to build a following, time an author whose book comes out in a few weeks will struggle to do. His methods, like most good marketing for books, make the most sense for authors who believe they'll write more than one book. Marketing books is hard. It's an extremely competitive landscape.  It requires a long term commitment, a commitment most one time authors are unlikely to want to make (or can't make as all of their available energy goes into the book itself). This is a minor criticism since this is simply a fundamental truth.
The book is short and an easy read. I read the whole thing in an hour. It was a pleasure and was worth the time and money.