Don't Go Back to School: Book Review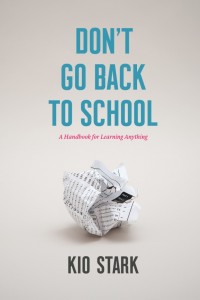 I wrote recently about whether a college degree is worth the expense, and when I heard about Kio Stark's new book called Don't Go Back To School: A Handbook For Learning Anything, I was intrigued.  I asked her for a copy in exchange for consideration for writing a review, and here we are. It's a good book, I read it quickly, and if you don't know where to start in seeking your own education start here.
From the title I expected either a manifesto or pragmatic guide to self learning, but that's not the case. The book centers on interviews with successful individuals who achieved success without following traditional paths. Although I easily read the entire book and recommend it, it's an oddly shaped reading experience, where the introduction read more to me like a closing summational chapter. Although the book closes with a chapter of tactics and resources, and some interviews provide tips, the book itself is more inspirational than pragmatic.
There are some excellent interviews (Norton, Doctorow, Taylor) but some wander too deeply into personal histories and career specific advice, away from the book's ambition (Cory Doctorow's interview felt as if it were repurposed as he talks more about writing than anything else). Unlike Founders at Work, where the interviews stand alone, or even What Should I Do With My Life?, where the author weaved the stories together, Don't Go Back to School sits in the middle in structure. It took until I reached the 4th or 5th interview that I settled in to the frame and tone of the book. I'd almost recommend reading the interviews first, and the introduction and closing references last.
And yet one of my favorite lines in the book comes from Stark's introduction:
A gracefully executed quit is a beautiful thing, opening up more doors than it closes
She also clarifies common strategies her interviewees shared:
Portfolios to show their past projects and demonstrate competence

They show enthusiasm and chutzpah
They are adept at learning on the job
They are meticulous about doing good work
And Stark takes to task the often sited data about the value of a college degree:
…as a historical trend, people with college or graduate degrees have higher lifetime earnings… the problem is that this statistic is based on long-term data, gathere from a period of mderate loan debt. easy employability and annual increases in the value of a college degree.
Some highlights from the interviews include:
Quinn Norton (Journalist):
To this day, lectures are one of the best ways I can learn things, now on my iPod. To really get it, I listen to the same lecture back to back, twice…

I was a very odd teacher… I hated grading. I remember standing up in front of them and telling them grades don't matter… One of them raised their hand and asked, "Well then Ms. Norton, what matters?" I told them what you learn matters. The skills that you get are useful. Not the grade you get. They were aghast.
Dorian Taylor (Programmer):
At my present age of 33, I suspect I could get into any institution that would take my money. But I couldn't tell you why I'd go.
Molly Crabapple (Artist):
If you go to a rich people school, in any major, you will get a network of rich people. If you go to a poor people school, you won't get a network of anyone. I totally understand why people go to Ivy League schools, so that they'll meet the future power brokers of the world. I just never had the grades or the money for that, so it wasn't an option for me. I made my own way. I network with people who are outside my field – journalists, writers, performers – and I look for every opportunity in the entire world where there is a blank wall and I can put my work on it.
Christopher Bathgate (Sculptor):
Getting stuck for me has been one of my best teachers. It has taught me the huge difference between just knowing the answer, and knowing how to find the answer
Pablos Holman (Hacker):
A lot of the people I think of as being most capable and accomplished are those that dropped out of college and learned what they do on the job. Learning that way gives you a sense of responsibility and a sense of ownership of your skills and knowledge in a way that a degree doesn't. You get a degree and it's an external authority saying you know what  you're doing. The degree abstracts responsibility for learning and the knowledge you have.
Zach Booth Simpson (Researcher):
Don't bother getting an education: just hang with smart people and ask good questions.
The book is excellent for people who want to break free, and need to connect with stories of those who have done it. Most of the interviews are with independent, freelancer, entrepreneurial professionals and their stories will have the most appeal for those dreaming about similar paths (as opposed to those who dream about middle management and want to get there without going to college).
You can get the book here Don't Go Back to School.