Meeting the Street Poet of NYC
Selling books is hard. It's a surprise for most writers, even experienced ones, how much harder finding people interested in your work is than writing books themselves.
So last month while I was on book tour, feeling down on my luck as I walked from a lecture at the Foursquare office to another one at NYU, I was surprised to notice a man on the corner selling poems. I'd certainly heard of street poets before, but I couldn't recall ever having seen one in person. Born in NYC, I know the rules of the street. You don't stop for anything. To stop means you are from somewhere else and are easier prey.
But stop I did. How could I not stop? What could be harder than selling writing on the street? And poetry no less? This must be a superior writing creature I thought, and I had to talk to him.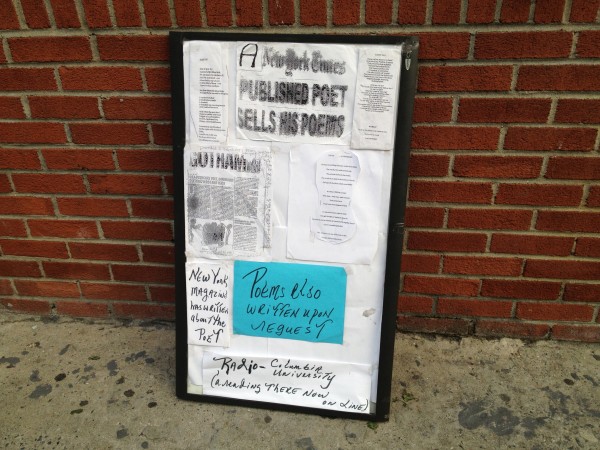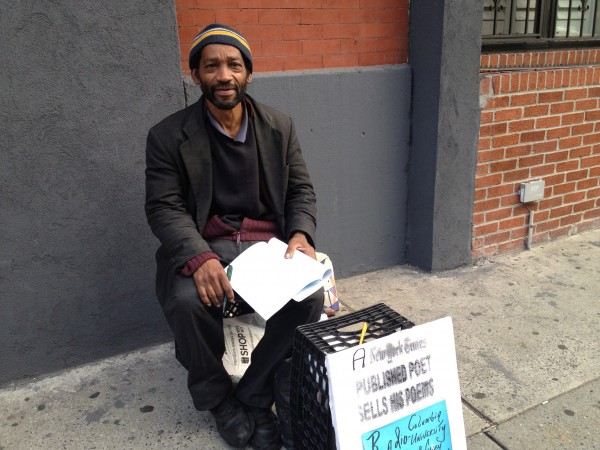 I stood and watched for awhile, and soon he came over to me, asking me not to block one of his signs. He said, with a smile "it's hard for me to sell poems if people can't see the signs, you know?" And I understood exactly what he meant as I was in town putting up signs of my own. I told him I was a writer myself, and we talked for awhile.
We talked about our favorite writers, our favorite poems, and all the while I couldn't believe that there, in the middle of my tour, I'd meet someone that was having a harder time with this writing thing than I was, but yet who was more committed to his work than I was too: I didn't have the courage to sit on a naked corner and pitch strangers on my writings.
I'd learn later his name was Donald Green. He'd been written about in the New York TImes years ago, and was a rising star, doing readings of his work on the radio and TV. He's fallen on harder times, and his life on the street has been documented in various articles about him. He told me his family has always helped him pay for a place to stay, and he is living this life by choice. I wasn't sure how much I believed him, but it didn't matter.
I offered to buy his books of poems, and he offered in return to write me one on the spot. He asked for a topic and I told him: Serendipity.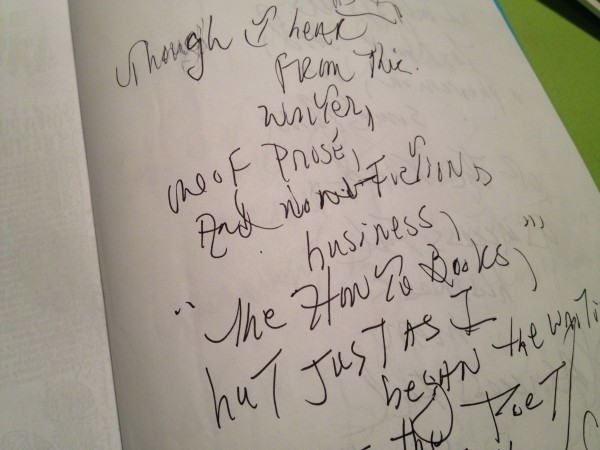 A Positive Sign, By Donald Green

So A fellow writer,

I feel, a poet as I.

Though I hear from this writer, one of prose,

and of non-fiction, and of "how-to" this and that,

but just as I began the writing to him I felt the poet,

Wallace Stephens comes to mind,

The unusual in art,

as my sister's textbook said,

a phenomenon,

or some thing of the kind,

a successful businessman, a successful poet,

perhaps Scott, the same with you?

Oh, stay alive, time can reveal?

But our meeting serendipitous?

Accidental Encounter?

or meant?

God above or destiny, or life's way, deemed meeting?

Flow like much of life Scott, serendipitous?

Just chance? Just accident?

Mere occurrence?

Show how much is meant?

Is everything SET?

The force or life, or God has it all planned?

How much even is in ones own thinking? feeling? whether bad or good?

I hope Scott, sincerely, I,

as a poet, and of a true poet,

A bearing of truth about life,

A giver of the beautiful language,

a most often challenging language,

so I hope I am as a poet,

A POSITIVE SIGN

of the truth you see and can gather.

And the success as a writer,

and the peace life can bless someone with,

and the protection from God, or life's good side,

sweet side,

in a wild world with its danger.
<iframe width="560″ height="315″ src="https://www.youtube.com/embed/UMVfxl0qioU" frameborder="0″ allow="accelerometer; autoplay; clipboard-write; encrypted-media; gyroscope; picture-in-picture" allowfullscreen></iframe>