Why the book is called The Year Without Pants (the real reason)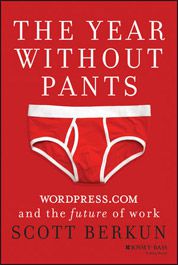 When you put the words without pants in the title of a book people ask interesting questions. Some love the title. Some hate it. Here are some answers.
Like always, early on I invited you blog readers to suggest and  vote on the book title. The working title for the project all along was  The Automattic Year, (Automattic is the company that runs WordPress.com) but as the project moved closer to publication I didn't think that title would work (you can read my general theory for choosing book titles). I asked my former coworkers for suggestions too.
Chapter 15 of the book offers one explanation for why the book is called The Year Without Pants: the title is an inside joke, referencing how WordPress.com lets all employees work remotely. The internal blog for my team often said at the top "Do you know where your pants are?" reflecting the irreverent humor that ran through my team and runs through the book.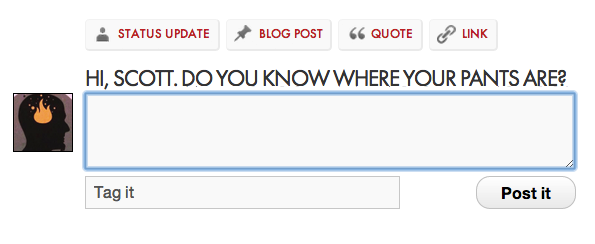 But there are many serious reasons I chose the title. The book is a direct challenge of our biggest assumptions about work:
Can an organization be productive without email? WordPress.com claimed to be.
What work traditions no longer serve us? Do we need dress codes? 9 to 5 working hours? Are hour long commutes worth it?
Are teams and managers necessary? Why? Until I arrived, WordPress.com had neither.
Can I, as a "management expert", successfully manage a team again?
What new fangled things are younger companies doing and do they matter?
How much of my own advice from my books and this blog do I actually practice?
I think the business world takes itself far too seriously and it's a problem. It's only when we strip away some of our assumptions that we can figure out what works and why.
Being naked means you have nothing to hide. I did this project to challenge our biggest assumptions about work, management and what the future will be like.
The title has fulfilled that ambition, as it has ruffled feathers and raised questions about everything on the list above and more. And I hope you'll check out the book if you haven't yet: it's the most honest insider account and perspectives you're likely to ever find in a business book.
You can read the first chapter here and see for yourself. Or read some of the stellar reviews and endorsements.