Is it common to be estranged from family? Research results
In my research for my book The Ghost of My Father, I was surprised at how little data there was about estrangement. I wanted stories and research from people in situations like mine, but I didn't find much. One U.S. study I found reported that 7% are estranged (or detached) from their mother and 27% from their father.
To fill the gap I did an informal survey last week of 91 adults, primarily through twitter, to get some baseline data. Here are the results.
Disclaimer: since I recently published a memoir about my family and survey participants self-selected, it's almost certainly biased towards higher reports of estrangement than average. This research is intended only to be a first step towards collecting more balanced data.
1. How old are you? Gender?
Nothing interesting here. Twitter and my following on it are unsurprisingly male and around middle age. 66% identified as men, 33% as women and 1% as other. 73% of respondents were from North America (U.S. & Canada) with 16 countries with at least one respondent.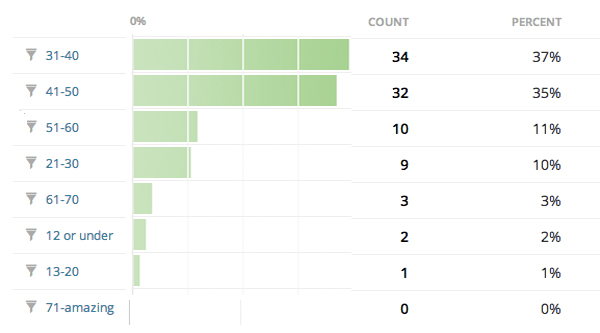 2. Are you currently estranged from an immediate family member?
Nearly 50% of respondents are currently not speaking or relating to someone formerly close to them.

3. What is your relationship to them? And how did the estrangement start?
I wanted to know if particular kinds of familial estrangement happened more often. Fathers were most common, at 26. Mothers next at 18 and siblings third at 17. The second part of this question was unintentionally biased, as one of the respondents pointed out, in that there is no option for mutual initiation. Slightly more respondents initiated the estrangement (37) than did not (35).
Of course every family is complex and each relationship can influence the others. I did not ask for example if respondents were estranged from their entire family, parts of it, or just one person (they could choose more than one). Adoptions, divorces and other specific situations were not identified.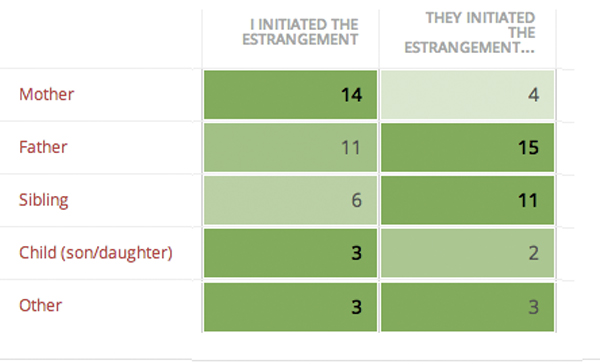 4. How long have you been estranged?
The majority of estrangements (45%) have lasted more than 5 years, 1 to 5 years were 34% and less than one year was 20%. This is likely indexed to age, as older people have been alive longer and the possibility for longer estrangements increases.

5. Have you tried to reconcile?
73% of respondents who are or were estranged from a family member have tried to reconcile. Less than half of them were successful.
Reconciliation can mean many different things and I left it to respondents to define the term. Specific situations liked adoption were not isolated from more common situations.

6. Comments
These situations are unsurprisingly tough and complex and many respondents left a comment with more of their story or details they though were relevant. Here are a few edited comments:
"It's weird – I don't know why it happened. There was no event. We both gave up on the relationship without communicating anything."

"never estranged. Physically and financially family has always been together. But emotionally, in terms of open conversation, not so much."

"I had enough of an unhealthy relationship with my mother after many years of trying, so I ended it. There have been life moments (sickness and deaths), with some contact, but that's it. She hasn't known my children for the past decade."

"My father remarried and we haven't talked much, if at all, since."

"My family sucks"

"I'm sure my brother thinks it was me!"
7. What's Next?
I'm trying to find psychologists doing research in this area who might be interested in doing more. If you know of anyone studying these questions professionally please send them my way or point them to this summary.
Update 12/23/17: NYTimes article Debunking Myths about Family Estrangement