Help me launch the new book Today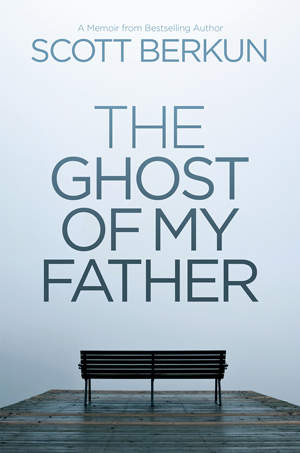 If any of my work has helped you in the past, here's an easy way to return the favor. My 6th book, The Ghost of My Father, launches on Wednesday. Every single mention or purchase of the book on the day helps tremendously in helping this new book find its way in the world.
50% of profits of this first edition are going to Big Brothers Big Sisters, so you'll be helping a great charity too.
How to help TODAY:
Set a schedule reminder for one or more of the following (iCal appt):
Post on Facebook, Twitter, LinkedIn with the link
Email your friends and family about the book
Post an Amazon.com review when you finish reading (and Facebook / Tweet about it)
Spread word of the sample chapter
Multiple mentions throughout the day can help
Sample Facebook / Twitter text you can use:
The hashtag is #ghostmf. Feel free to reuse, borrow, snip and edit these:
Twitter: "New book by @berkun, The Ghost of My Father, fantastic story of understanding the past, on sale today: http://bit.ly/ghostofmyfather #ghostmf"
Twitter: "New book by @berkun, The Ghost of My Father, read the powerful chapter excerpt and buy today:  http://bit.ly/ghost-excerpt #ghostmf"
Facebook: "One of my favorite authors has a new book out today. If you have issues with your parents you're still trying to work through, get this book. His story will help you understand yours: http://bit.ly/ghostofmyfather – 50% of profits donated to Big Brothers Big Sisters"
Early Reviews:
"Not only captivating, but also insightful… digs deep into many themes; family dynamics, forgiveness, grace, legacy, hope…" – Jen Moff
"Thought-provoking read, and highly recommended…" – Thomas Duff
"When I finished it, I felt more human and less alone." – Heather Bussing
Want a Reminder?
If you're following me in any medium you'll be reminded on Wednesday :) There's a special Facebook Event page, but my twitter, Facebook fan page and mailing list will all be updated in the morning, and likely throughout the day with news.
If you leave a comment on this post I'll make sure you get an email too.