How Events & Conferences Should End
Yesterday I gave the closing talk, How To Champion Ideas, at An Event Apart Seattle (If you saw me at AEA Boston, those slides are here) . It was a new talk, requested by organizers Marci Eversole, Jeffrey Zeldman & Toby Malina. From their observations and attendee feedback they knew one big challenge for all events is how to help attendees bring ideas with them back to work. As an experiment, they asked me to do a talk on this as part of the event itself. I thought it was great that both they were thinking about this issue and they were willing to do an experiment. I wish more organizers were as thoughtful and as brave.
One primary observation: events should end with a happy hour. Or perhaps, like Webstock, with an after party at the venue. Most events end as soon as the last speaker finishes speaking. It's a cliff of an experience: all of sudden there's nothing. Why not invite people out for an informal social gathering, where they get one last chance to connect, share stories, and talk about highlights from the event, now that it's over? As an experiment I invited everyone out to a drink after my talk, and the result was great. About 45 people joined me, and we took over most of Black Bottle.
I discovered that most people want this, but are afraid to take the social risk of trying to organize. It's exactly the kind of thing an event, or the last speaker, can facilitate. Pick a place, a time, and announce it. Boom. Instant extension of the energy of an event, giving everyone more value for coming to the event at all. Thanks to everyone who came along and validated this little experiment. It would have been sad  if I ended up drinking there alone.
Of course at a big event you can't just invite 500 people to go to a bar together (But I basically did this, guessing 5 to 10% would come, which was about right. You might not be as crazy as I am though). If you're worried about the logistics, simply make it an unofficial but encouraged activity. Offer signup sheets during the day, and find 5 or 6 volunteers willing to lead small groups out for a beer. Maybe ask each volunteer to call ahead a local bars to see who  wouldn't mind a nice rush. Events are often on weekdays which are slow nights for bars: they'll be happy to hear from you. The key thing the event needs to do is announce it and provide the structure (time, place, etc).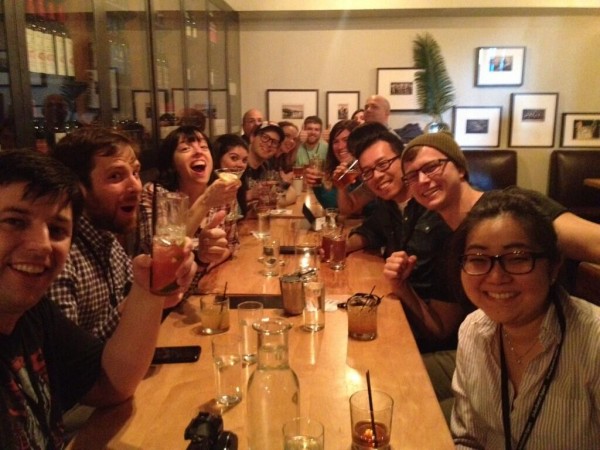 Here are the slides from my closing talk, which offers a range of advice on how to get the most out of an event (as it's ending). Thanks to everyone who commented on my related post.
Related: