Improving the User Experience of (User Experience) Conferences
I'm finishing up work on a talk for An Event Apart Seattle about what happens after the conference is over [update: that presentation is here]. At first this might seem like an odd session to have, but it's reflective of a fundamental problem of all events: events are intense short term experiences that people attended with the hope of long term effects.But from the moment the last session ends, attendees are basically abandoned, and on their own, left to their own devices for sorting out how to digest and apply what they just experienced.
If you made a chart diagraming the positive energy effects of the event, it would look like this: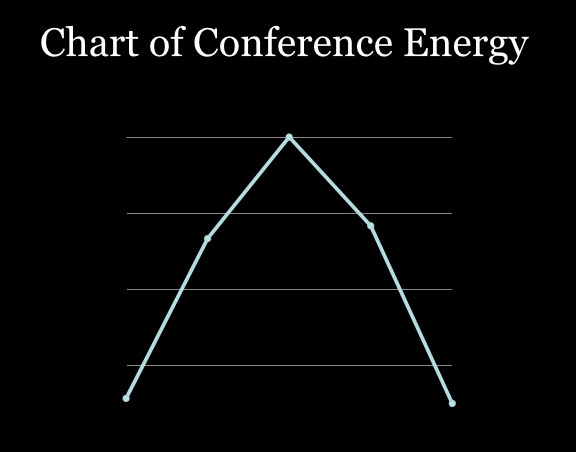 Somewhere in the middle of the event, usually at the sponsored reception, is the peak of the community that forms around that event. It's the moment when:
The most people are in attendance
people have had half the event to meet and engage with people
It's the easiest socializing,as there's booze, food and everyone there is there to socialize
People can still look forward to the second half of the event
But as time progresses towards the last session, that energy  falls. And when the event is officially over, there's a user experience cliff where you are instantly returned to being on your own again, sadly divorced from the bonds you just formed, much like a child getting on the bus to take them home from the last day of summer camp.
What I'm wondering is, what can conferences do to make it so the chart looks more like this?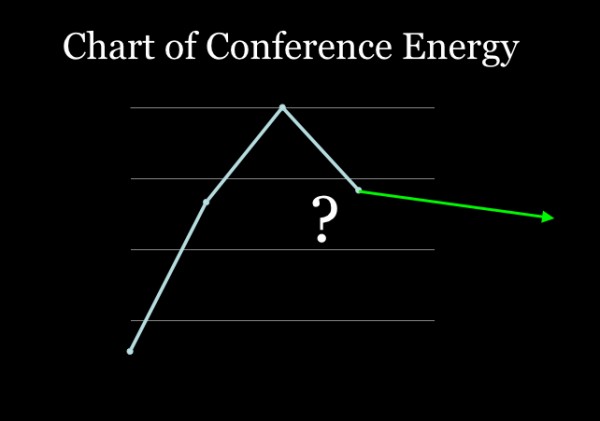 A list of obvious things events can do include:
Opt-in mailing list or Facebook group for people to continue the conversation
A follow up email the day the event ends, with links to slides and resources
A check-in email one month after the event, to see how folks have applied what they learned (there's good feedback here for the event as well)
A happy hour a month after the event to reunite locals (or done in a google+ hangout)
Have you seen smart or well done ideas at events for getting closer to this goal? Or that help attendees get the most value, now that they've returned to work, from the event that just ended? Leave a comment.