Signed copy of The Year Without Pants to First 10 commenters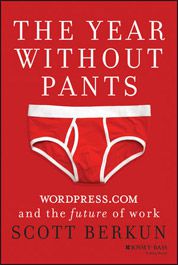 Hi folks. Its been a long time since I gave things away.
Some of you subscribe directly by email ("Get Posts Instantly" in the sidebar) or RSS to every single post. That's swell of you.
As a small token of thanks you get the first shot at this. I won't hit the social media thingies until later today.
The first 10 people (in North America, sorry rest of planet) to leave a comment will get a signed copy of The Year Without Pants, an Amazon.com best book of 2013.
Bonus: I'll also pick another 5 additional commenters at random to get a book, so if you're late, leave a comment anyway. You might still win!
Thanks for reading and supporting my work.