The Myths of Innovation: in 10 crazy acronyms?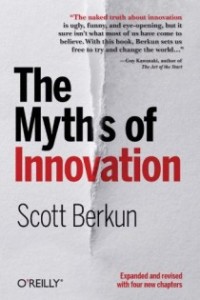 A reader took their favorite ideas from The Myths of Innovation and made them into fascinating, but rather hard to remember, acronyms.
NSMM-I-MSIAOT ~ No Singular Magic Moment – Instead – Many Smaller Insights Accumulated Over Time
TORTLPISIBOTOPYAPIP ~ The Only Reason That Last Piece Is Significant Is Because Of The Other Pieces You'd Already Put Into Place
UTIIA-IWBQR ~ Until The Innovation Is Accepted – It Will Be Questioned Relentlessly
PAUTBAIIYIAYA ~ People Are Unlikely To Be As Interested In Your Ideas As You Are
TMVCINTMS ~ The Most Visible Contribution Isn't Necessarily The Most Significant
TGMILFFTS-SOTPAEATHOFNI ~ The Great Mistake Is Leaping From Facts To Solutions – Skipping Over The Play And Exploration At The Heart Of Finding New Ideas
IDDM-IWDWTTM ~ Ideas Don't Do Much – It's What's Done With Them That Matters
PAI ~ Problems As Invitations
AICGABEROTIOTIOHWDTA ~ All Innovations Combine Good And Bad Effects Regardless Of The Intention Of The Inventor Or How Well Designed They Are
ARAIITAANISBTN-IESTAATSBTT ~ As Ridiculous As It Is To Accept All New Ideas Simply Because They're New, It's Equally Silly To Accept All Traditions Simply Because They're Traditions
You can read the rest of the points they thought best (the blog seems dedicated to summarizing books this way).
It's always fascinating to see how readers digest what I had to offer. I'm just the writer, but if you want my take on the most important ideas, see my own easy to read summary of the book.