5 Things I Learned From My Amtrak Writer's Residency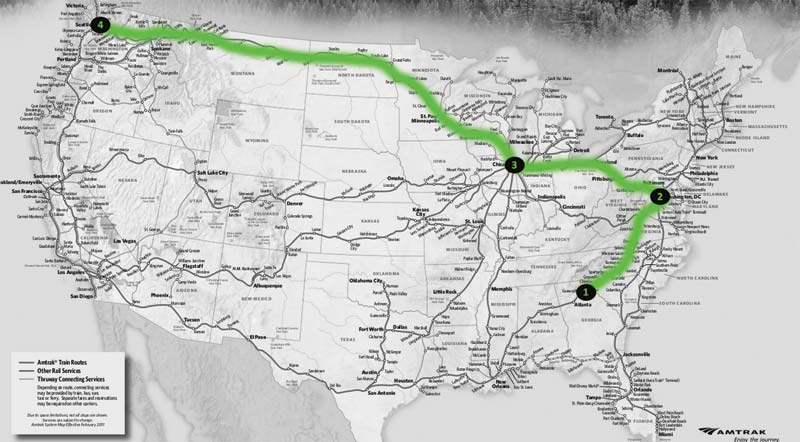 Last month I took a long train ride from Atlanta to Seattle over six days for my Amtrak Writer's Residency. Each of the 24 writers chosen in 2014 from nearly 16,000 applicants, took solo trips of their choosing across the USA. We were granted a private sleeper car and free room and board. I was one of the last to take their trip and it was an honor and a great experience in every way. I wasn't required to write anything, but based on your votes I chose to work mostly on documenting the trip itself and I hope to publish a short book or long essay about it next year.
Here are some highlights from the experience.
Slow is good for the mind. Traveling by train is surprisingly more civilized than traveling by car or airplane. There's more room, there's less security theater and the pace on the rails is more human (I didn't see anyone suffering from the Cult of Busy). The landscape goes by at a pace that makes sense, not too fast but not too slow. You can bring your own food and alcohol (and people often share in the observation car). And the folks who choose long train rides aren't in a rush in the way other travelers are, they're friendlier and more relaxed. I found it easy to get comfortable no matter where I was on the train, and I spent most waking hours in the observation car, watching, thinking, talking and writing. It felt almost like being at a nice public lounge, on wheels, floating through one beautiful landscape after another.
Progress often comes with regress. We believe every new technology improves on the old in every way, but that's not true. There are often good things we leave behind when we upgrade (e.g. you can't slam a cell phone to hang it up). My long train ride was a reminder of what we've lost as travelers. The existence of a dining car and observation car, where I as a passenger could look out of floor to ceiling windows and enjoy an actual cooked to order meal was a pleasure – one that's impossible to experience when in cars or airplanes. Trains have a charm few American's experience unless they travel abroad to places where in the 1950s complete faith wasn't placed in the belief that gasoline powered cars for every single person was the answer for everything.
America is beautiful to see. With huge windows in every car, I felt drawn in (or more precisely, drawn out) to the landscape. The train routes follow the hills and waterways, curving in and out as the landscape demands. I had countless moments where I lost myself in thought as my eyes took in the beautiful countryside. I saw long rolling hills, high mountains, endless forests and powerful rivers. At times I forgot where I was and when I came back to my senses I'd wonder what (physical) state I was in, and what town I was passing by. Children in small towns often come to the station just to wave as the train comes in and heads out. Even in cities where train lines run through the rough backside of graffiti laden urban infrastructure, it gave me a better sense of how cities actually work. The USA is a wonderfully diverse and beautiful landscape, perhaps best seen as far away from our highways as possible.
Constraints drive creativity. The small sleeper room I had contained many clever design choices to make good use of such a small space. It felt like being in a space ship or on a small boat, with little compartments and clever thinking at every turn. On one train my little sleeper had its own sink and bathroom (which stunned me as I only discovered this when asking the porter where the bathroom was on the train, and he pointed just to the right of where I was sitting in my sleeper room). The bunkbed where I slept from Atlanta to D.C. even had it's own full width window, allowing me to watch my country speed past as the train gently rocked me to sleep.
Art is Magical. Even when I'm not writing for anyone else there's something pleasing to my own mind to see thoughts that were once just in my head transformed into the permanence of written language. I haven't published much this year, but the residency was a chance to work at my own pace, or not work at all, and I found it pleasurable in every way. If there's hope for a better future for all of us it will come from the arts at least as much as it comes from our sciences. It's our emotions that drive much of our best and worst qualities and only art gives us new ways to discover who we really are and who we most want to become.
I'm proud that Amtrak has invested in supporting writers and creators and I'm grateful to have been a part of it – I hope they do it again next year (which has already been announced and you can apply here).
Thanks to Julia Quinn at Amtrak for making my trip possible, all of you fans for cheering me on, and the generous folks in the Amtrak Facebook group who gave me countless tips for long haul train travel. You can read more about other residents experiences on twitter or at the Amtrak Blog (many bios have links).
[This essay was reposted on Amtrak's Blog]