The life goal: writing books
The author page in the back of The art of project management Making Things Happen has this photo.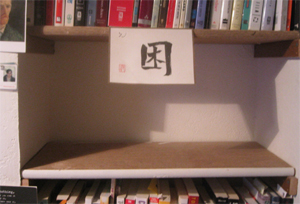 This represents a life goal: to write enough good books to fill the shelf. I've measured its width and according to my calculations I need to write 20-25 books to fill it. Since the book took a year to write, working nearly full time at it, I expect to be working towards this goal for the rest of my life. I won't publish anything I'm not proud of so I'm after quality too, not just volume. If I die with a half full shelf of good books, I'll still be a happy man (as happy as a dead man can be).
I think this goal is as insane as you probably do – but when I quit Microsoft in 2003 I made a long list of possibilites: this was the least insane. Just like everything else, insanity is relative.
Writing forces many good things to happen for me: most interesting perhaps is that I have to confront my own bullshit. I can't just complain about things I don't like or handwave about how I'd make something better: instead I have to sit down and try to do it myself. And if I do it right, other people benefit from the effort.
I'll be writing more on this blog about the goal and my approach. If this interests you let me know: if not I'll keep most of it to myself :) Any encouragement is encouraged and thanks for reading so far.