More social software: Crowdvine + Pathable
FOO Camp saw the power combo of two different social software technologies: Crowdvine, a linked-in type system for pre & post conference connection making, and pathable (which I first saw at Bizjam) for guiding people in finding folks to meet.
Here's a short review:
It works and its fun. Bravo! The premise is simple: weeks before the event log in, list some tags, and ping people you might know attending the event. It's easy to find people who share your interests (via tags), read their bios, and ping them if you so desire. There's a comment system so you can leave notes which was surprisingly active, and public: going to the home page for the site shows all activity, from blog posts made by an individual, to comments sent or received. Anyone can jump in on the threads which was interesting (and I wondered if it'd work for a 500 or 1000 person conference).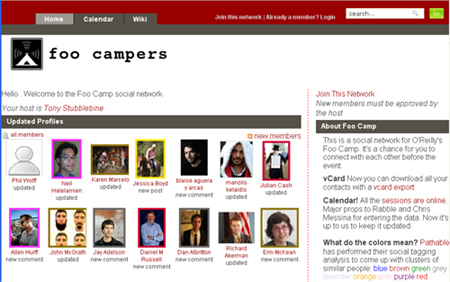 At a minimum crowdvine helped me match faces to names before the event which is a big deal for networking or meeting specific people. And it was voluntary – had I been annoyed or less social, I didn't have to participate at all.
Pathable provided the event badges, fueled by their social matching system – based on tags and other magic they grouped individuals by interest (represented by the color of each badge and the color of the crowdvine profile, see photo above) and created the surprisingly popular matches/opposites lists for every person.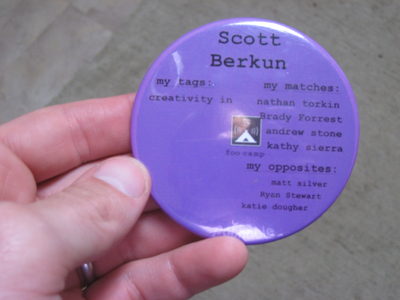 Much like at bizjam, the badges got people talking. It made introducing people to each other much easier as being someone's opposite or match was an easy way to start a conversation.
Gripes:
Only problems were mild integration issues. There was a wiki for FOO that didn't integrate with anything else, a photo wall, with tagish Q&A, at FOO that had different photos for people than crowdvine, little things like that that I'm not sure need to be fixed. Someone needs to do a user experience analysis on how many different places and systems ask for personal/social info and check that any redundancies are useful or fun in some way.
After the event I noticed it was possible for me to track what sessions I'd been to in Crowdvine, but wasn't sure why it was worth the time – perhaps to follow up with people I'd met but didn't grab their contact info? Not sure.
Summary:
Not sure how much these folks charge, but smart conference organizers should be hiring these folks. Conferences talk the talk about connecting people and building networks, but rarely do anything to facilitate it. Crowdvine and pathable are real tools to help make that stuff happen.