Creativity lessons from Rene Magritte
One perk of an independent life – I'm more free than most to travel the world and see amazing things.
I was in Brussels to give a lecture at Namahn, a wonderful design consulting firm, and Joannes, the company founder, was kind enough to take me to Rene Magritte's house, which is now a small museum. He's one of my favorite artists of all time – to see where he worked was a very special thing for me.
One of his most famous paintings is The Treachery of Images (La trahison des images). You may have seen it before:
The text in the painting reads "This is not a pipe".
It seems like a joke.  First time I saw this painting in college I just snickered and moved on. But later I'd realize he's reminding you that pictures of things are not the same as things. That movies about things are not the same as the things they are about (e.g. Twittering about something is not the same as doing that thing). It's deep, funny, interesting, philosophical and simple all at the same time, which is what I hope my work to be like.
Walking around the house he lived in, many of the objects that appear in his paintings can be found, including the pipe: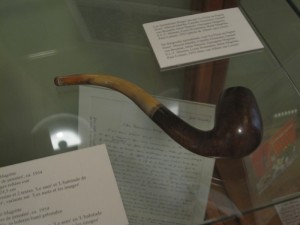 I also saw his bowler hat, the fireplaces and stairs that appeared in many of his paintings.
Here's what I learned:
You can be creative with anything. He worked with simple objects and made profound statements . You don't need complex things to think complex thoughts or make important points.
You can be serious and funny at the same time. There's a sense of play in many of his paintings, and also various inside jokes to his wife and friends in his work.
No one gets a free ride. I didn't know he spent many years making advertisements and posters to make a living – many of them were on exhibition in the house. It wasn't until later in his life that his paintings were worth enough to focus on them.
You can work anywhere. His studio was between the only kitchen and only bathroom on the first floor of his house.  It'd be the last place I'd want to work for hours, but it clearly worked well for him.  Apparently it had the best light in the house, and he prefered working there to the much larger studio out in the back. Here's a pic of his studio. It's a tiny little cramped space.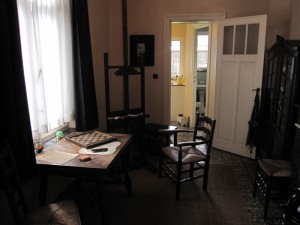 Sadly I just missed the opening in Belgium of the Rene Magritte museum, which will be the largest exhibition of his works anywhere in the world. It opens June 2, 2009.
You can see many of his works here – I suspect you've seen some of these before even if you didn't know the name of the man who made them.