Few people understand the process of completing a book. Everyone understands the ideas of drafts, but the process of copyediting, where someone gets 'all up in your sentences' is a sensitive thing. How does it work?
At most publishers, copyeditors are rarely involved until late in the process. The Editor for a book rarely does any line-editing. Editors, with a capital E, are typically in charge of signing authors (a.k.a. acquisitions) and also helping to direct and guide the book (a.k.a. development), but at the detail level of grammar and paragraphs often someone else is involved. Enter, the copyeditor.
Here's a snapshot of a draft chapter from Confessions of a Public Speaker, with notes from a copyeditor.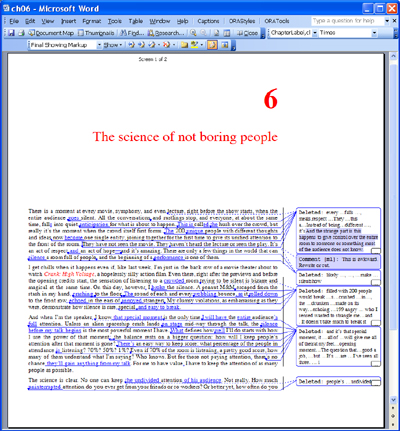 Copyeditors have a tough job. They have to sort out what the author was trying to do, and then help them do it. But if a writer botches a sentence or a paragraph (or chapter), it's hard for copyeditors to figure out the intent. And of course writing is more than grammar and tense, it's also less tangible factors like honesty, relevance, humor and value, which the copyeditor might sense are lacking but can't fix on their own: that's the writer's job.
The result is good copyediting leads to good conversations between the copyeditor and writer about what the writer was trying to do and how they can do it better. Problem is, most authors are exhausted by this point and the last thing they want is another round over the coals of criticism.
One way copyedits are done is through Word and revision marks. The copyeditor gets the so called 'final draft', reviews it chapter by chapter making line edits the author can see, and leaves comments or questions for things that might need to be rewritten. It looks like this:
As the author, I have to go through change by change and decide for myself one of five things:
Is the change good?
If I don't like the change, was there a problem in the original I should fix?
Is the copyeditor right grammatically, but wrong stylistically?
Is the copyeditor an idiot and didn't get the joke? Or is this just not funny?
Does this section need to be rewritten, entirely scrapped, or have new paragraphs added?
People talk about a book being a "great read" but rarely does anyone explore why, and a big part of it is how the author and copyeditor work together. Accepting every change can make books tighter, but also flat and bland. Some writers, exhausted or frustrated, accept all changes and I think it shows in the stiff, uptight style their books have. On the other hand, rejecting all changes from copyeditors is likely suicidal as you'll sound too raw, and too stupid, as bad grammar and paragraph structure generally makes you read like an idiot.
To be in the sane middle ground, even though I'm technically "on the last draft", during copyediting I have to carefully go through every chapter for the zillionth time, re-reading, re-writing and trying again to keep the experience for the reader as tight and interesting as possible.
I don't want to rewrite the book. Hell, I want to do as little work as possible if I feel the book is pretty good as is. But some parts clearly need help. The trick is to do just enough to make it good, without breaking something else in the process. Surgical rewriting is the goal. But when you change one paragraph, that change can cascade into others, and before you know it you've made things much worse. Best advice is to cut more out than you add during the copyedit.
The copyeditor for my first three books was Marlowe Shaeffer. She's tough, smart, sarcastic and direct, which is great. I want to hear some tough stuff in the copyedit. How else will the book get better? A copyeditor and author shouldn't agree on everything – the process should force the writer to think more clearly and catch bad assumptions they've made. I get final say, so what do I have to lose in being questioned? Better now than in book reviews.
It takes a few weeks to complete a copyedit, and have the debates, in my mind or with Marlowe, to resolve all the changes. The copyedit is also a chance for me to add & check references, and to go through my research notes one more time for little bits that might fit nicely into places that need some spice. Some jokes and twists often don't make it in until the copyedit.
Good copyeditors are underpaid. They have the most intimate involvement in the creative process, even though it's late in the game. In many cases they make mediocre writers look good. And of course a bad copyeditor can make an interesting or entertaining writer seem boring and dull.
But in either case, writers, after the copyedit, are still not finished.
The last stretch is what are called galleys or quality reviews. A copy of the book is produced in actual layout and style of the printed book, and I get to help review it for problems. Typos, image problems, layout issues and orphans (words left alone on a page), can arise in the transfer from Word to the Galley layout. Of course the publisher reviews for these things, but my name goes on the cover and I get blamed for everything. There's a natural desire to check it out and catch what I can.
In the end I figure I read my own book dozens of times before it ever gets into stores. As does the copyeditor and sometimes the production editor (who manages the production of the printed book). There's no way around it – writing is a reading intensive process, always has been and always will be.
Have questions about copy-editing, or the writing process? Ask away.