A failing in all design thinking is faith you can perfectly predict human behavior. Often a wiser strategy is to observe first, try to understand, and only then predict.
There's an old concept among architects and urban planners called desire paths. If you walk around a college campus, or urban park,  it's easy to spot the well tread paths between buildings people have made for themselves. These are desire paths, or desire lines. The natural behavior among people shows you where the optimal path should be.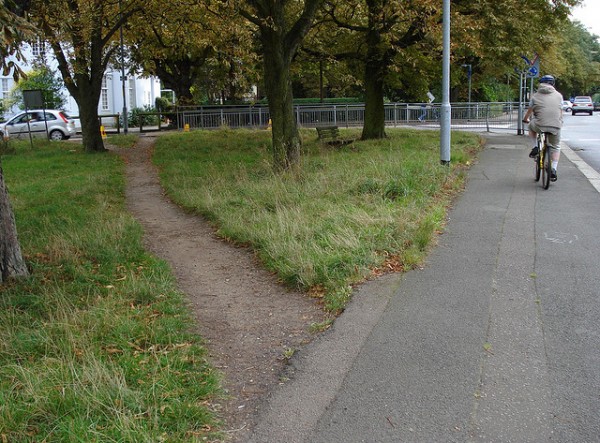 (Photo by Kate Pugh)
There's a likely apocryphal story about a college campus that didn't put any paved paths in until the second year. For the first year they waited to see the paths the students and staff had made, and put the paved paths over them in the second year.
This idea extends beyond courtyards and urban planning. You can think in desire paths for nearly any kind of design problem. Take for example, dialog in film-making. Here's a story from the making of Scorsese's GoodFella's:
According to Pesci, improvisation and ad-libbing came out of rehearsals where Scorsese let the actors do whatever they wanted. He made transcripts of these sessions, took the lines that the actors came up with that he liked best, and put them into a revised script that the cast worked from during principal photography. For example, the scene where Tommy tells a story and Henry is responding to him — the "what's so funny about me" scene — is based on actual event that happened to Pesci. It was worked on in rehearsals where he and Liotta improvised and Scorsese recorded 4-5 takes, rewrote their dialogue and inserted it into the script.
The idea of prototyping, if done right, allows for many paths to be explored, either by actual users, or even through your own imagination. In the case of Goodfellas, the different possible paths were explored by the actors, and they gravitated towards one that worked well. Scorsese was simply openminded enough to let them explore and again in choosing to use the results. Rather than invent everything out of their own mind, wise creators know a little observation can be an easier way to find the right ideas.
Also see: Flickr photo pool of desire paths