Why you should come to Ignite Seattle 17 (Sunday August 19th)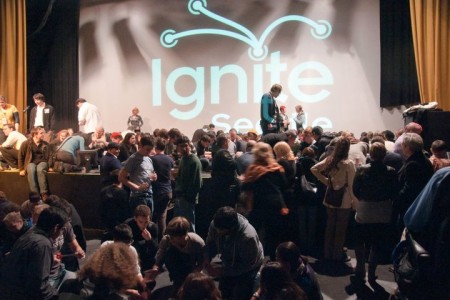 Once again Seattle Ignite is venturing outside for a special family friendly event. If you've never been before, this is a great time to come. Each speaker has 5 minutes to talk about something important and interesting. If one of them is bad, don't worry, by the time you notice they'll be almost done. And if you love what one of them had to say, you can fiddle with your phone and learn more about them and their ideas. It's fun, its fast, it's friendly. And it will change how you think about how public speaking should be done.
Here's the great roster of speakers. Many Seattle notables, speaking on fun and challenging topics:
Sol Villarreal, Engage Seattle (or, how I learned to stop worrying and love local government)
Steven Chau, My shirt does more than sparkle
Lisa Phillips, How to skate like a rollergirl
Charlotte Lee, Collecting Rubber Ducks and the Path to Mastery
Beth Goza, The Elegant Art of Waiting in Line
Rebecca Lovell, stop worrying and learn to love karaoke
Matt Jensen, From STEM to STICK: How to Raise Engineers
Donald  DeSantis, Manufacturing Awesome: Going viral in a crowded market
Edward Jiang, Learning about Technology by Building Cool Stuff
Shalendra Chhabra, America from the eyes of a first generation immigrant
Lisha Sterling, Unschooling For School-Schooling Families
Richard Johnston, Changing the World With a New Business Idea
Viv Ilo Veith, Brain kNew Information on Knoggins
Brad  Wilke, How I Made a Piranhaconda, Got Killed by Camel Spiders…And Lived to Tell About It
Alissa Mortenson Tyka, The Shame Project
Adam Tratt, Bullet Control Now!
When: Sunday August 19th, talks start at 7:30pm
Tickets:
$5 and sold online
. Get them now. If available they'll be sold at the door, but I wouldn't wait.
Host: Brady is out of town, so I'll be your guest host for the evening.