Best Book On Self Publishing: APE – Author, Publisher, Entrepreneur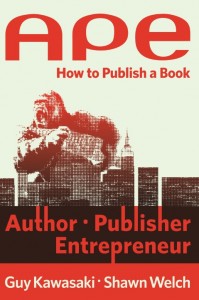 I was pleased when I heard that Guy Kawasaki was working (with Shawn Welch) on a book about self-publishing. He'd written many popular business books and had a straightforward and no nonsense approach to most topics he covered, and I expected he'd an interesting perspective on self-publishing. I was right.
This is the single book I'd recommend to anyone considering self-publishing, for the first time or any time. It's far better than any single book on the topic I've seen.
The title is a reference to how self-publishing comprises three distinct roles. Many self published books fail because the author only takes responsibility for one or two. Kawasaki comprehensively explains all of the dimensions, the common mistakes, and frames each role around tasks and tools that he himself has used or reviewed. He also includes actual numbers from his experiments with different marketing approaches and other efforts. It's a truly honest guide to a topic where there's too much snake oil and bogus theories.
The balance of APE: Author, Publisher, Entrepeneur, is pragmatic and focused on the confusing decisions that are hard to find good advice on, like pricing, which services to use, how to hire needed experts, and this  is balanced by the perspective of a very successful published author. Many books on self-publishing are written by people who had little success in the traditional publishing world and can't offer a comparison, or shed light on how to approximate the advantages of traditional publishing when working alone. Kawasakai can, and did, in this book.
Like Kawasaki, I've successfully done both traditional and self publishing, but even I learned quite a few things from APE.
Much of the book is comprised of handy lists that support a particular decision point. Sometimes theses lists are mini-reviews of tools, other times they're shorthand notes for rules of thumb for different ways to make decisions. Depending on where you are in the process some of these lists won't be useful now, or ever, and you might even make a quick read of the book, easily digesting the sections relevant to your particular situation. But the comprehensive nature of the book makes it something you know you'll want to keep around as a reference for future projects.
Get APE from Amazon or check out the book's website.
[Disclosure: Kawasaki has endorsed several of of my books]