Q&A about The Year Without Pants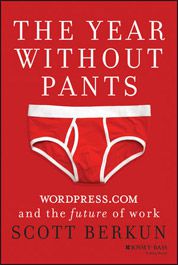 The folks at Jossey-Bass asked me a few questions about The Year Without Pants. I'm reposting them here:
You talk about having the right amount of "friction" – and that "few managers get it right." Yet one person's friction is another person's fight. How can a managers engineer "healthy" friction ?
The book details how I managed one team in search of the right balance. Most management books are all theory – it's rare to read a real manager, of a real team, actually trying to make it all work. More so than any theory, reading well written accounts of how real managers manage does more than piles of theory books in helping managers see what's possible and how it's supposed to work.
Think of the best teacher you ever had. Now think of the worst. Both gave homework, both gave grades, yet the feeling you had about those same activities was different with each of them. That's the way a good manager needs to think. Trust is huge: you trust a good manager to have good reasons for pushing you, just as you would for a great teacher. And much like teachers, there is no quick tip that separates good managers from bad: it takes time, experience and patience to learn.
You say in this book "the bottleneck is never code or creativity; its clarity" Is this the biggest issue in the way for companies trying to move forward?
Any moderate sized corporation is a wasteland of indecisiveness: it's all committees, review meetings and endless email chains. We all know too many people have veto powers. If you simply clarified who was the equivalent of a film director for a product, or a division, who was empowered to break ties, everyone would be freed to do better work: they'd spend more time actually working and less time fighting over turf. The Year Without Pants explores this in many ways, as the autonomy of the culture created bottlenecks of a kind all on their own.
What was the hardest aspect of working at WordPress.com for you personally?
I'm exposed in many ways in The Year Without Pants (ha ha). Underwear is one of the meanings of the title, but the best meaning is about stripping away all the BS we get distracted by, and looking at things, like work and management, as they actually are.
This book is honest and real: writing about coworkers and your boss is dangerous. It was by far the hardest book I've written. As an expert, my career is at stake in how well readers think I did at practicing what I've preached for a decade. And my coworkers who were there can challenge anything I wrote or said. I don't know of any book that's as revealing in so many ways about how work in the real wold is actually done.
Results vs. Process seems to be a theme…and yet process helps to keep politics at bay …and power distributed …are they really either/or ?
Only good processes keep politics at bay. Mediocre processes amplify politics by creating more turf and more restrictions. Any process should include a clause that defines when the process is no longer necessary. This never happens and the result is rules live on forever even after if their usefulness died years ago. Process should be a slave to results, but it rarely is. It's often the other way around.
This is a really interesting observation : "Every manager is kind of a new experiment, and any experiment that goes wrong should change." Do companies promoting someone to manager need to change what and how they evaluate success?
70% of all American employees are unengaged at work (Gallup 2013). All of those workers work for managers who are failing them. Management, as a discipline, is a failure: we are not, on average, good at it as a nation. We should be experimenting with the very notion of management itself: why not elect managers? Or promote them only on a trial basis? Or give the people who work for them the power to reverse a promotion? As wild as these ideas might sound I bet any of them would provide better results than that 70% number. The bar for management is that low.
As Americans it's absurd how we never consider democratic principles for management. Instead we have a system modeled on what: monarchy? Oligarchy? I'm no radical, but I am open to other influences in structuring how the powerful are chosen at corporations.
It seems that storytelling, relationships, humor – ie the humanity of WordPress.com – is so consciously intented – and with great results. But didn't they launch it with this in mind? How would a 200 year old company, say, with layers of tradition even begin to try to change its culture to get at a more meaningful workplace?
My story at Automattic is all about culture change: It was a suicide mission for me to introduce traditional management ideas into a company born of open source, independence and autonomy. I was an outsider with a radically different set of beliefs and experiences, which makes the core story of the book one about culture change: or at least my insane attempts to make culture change happen.
Any 200 year old company didn't start that way. It was grown and you change a company the same way: you plant seeds and nurture them. One bright manager plants a small seed in their own team with some different rules. When they show better results than other teams, other managers follow. Soon there is a high performing minority and if the CEO has a clue they'll invest in how to make that minority the majority. One way to read the The Year Without pants is "the year of attempting culture change." How can an expert on management be useful in a place that doesn't believe in management at all? That's my story and that's what the book is about.
Have a question? Leave a comment. Or read 10 Great Reasons to Buy The Year Without Pants.