(Book Review) The Up Side of Down: Why Failing Well Is the Key to Success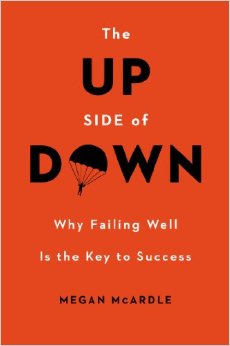 I read a prerelease copy of The Up Side of Down: Why Failing Well Is the Key to Success from Viking Adult.
McArdle writes well but the structure and pacing of this book was uneven. Twice during reading I double checked the title of the book to make sure I hadn't made some mistake about what the book's title was. Some chapters go too deep into singular, and not quite interesting enough, examples in a style that had a certain self-centeredness about them, as if they thought they were the star of their own show. I simply asked myself as a reader "where is this going and why are we still talking about this 10 pages later?" too often.
I wasn't surprised to learn in the acknowledgements that the balance of the book was based on writings previously published for The Atlantic and other magazines. This is not a ding about reusing work, as I don't care where the pages are born from provided the book works as a coherent whole, or is described as a collection, and neither was the case. There are also many political (Russia, America) and economic failure examples (debt, taxation, regulation, conservatives/liberals), which in retrospect fits McArdles wheelhouse as a journalist, but not my interests as a general audience reader interested in failure (which is what the title suggests is who the book is for).
On the positive side there are pockets of solid storytelling and useful commentary on rethinking failure here, it's just not consistently delivered and compared to the many excellent books for the general reader already published on rethinking our assumptions about failure (see list below) I can't justify recommending this book and its narrative wanderings, unless you're a fan of McArdle's writing (in which case you may have read some of this before) or you have a primary interest in failure in economics and economic policy.
She does correctly nail certain nuances often overlooked. She observes how we reward pundits for hyperbole rather than accuracy in prediction (A point Nate Silver's Signal and The Noise also emphasized), and the unavoidable failures of faith in testing of any kind (See Dangers of  Faith of Data). She captures how much randomness there is in why things fail or succeed (The films Waterworld vs. Titanic is one example) and points out how the Mona Lisa only rose in popularity after it was stolen (and returned), which has nothing to do with the quality of the painting itself. These points are well made and insightful.
And she explores a standard roster of studies from academia like The Stanford Marshmellow test on self control and the Peter Skillman Spaghetti bridge challenge (which coincidentally also involves a marshmallow) that showed how kindergarden children outperformed adults in a design challenge simply because they were the most willing to fail fast and learn from it.  She also references Carol Dweck's work on Fixed vs. Growth mindsets which is a concept rising fast in the corporate world as the latest panacea (for those wanting to replace their obsession with Myers-Briggs). Cognitive Bias, one of my favorite subjects, gets coverage too. Had these themes been more central to the book it would have faithfully lived up to the title, been a better read and easier to recommend.
Here's my short list of related books I'd recommend: