FREE Today: The Dance of The Possible on Kindle
Sunday was my birthday and to help celebrate my success at avoiding death in this universe I'm giving my latest book away to all of you fans and readers on Kindle today, Tuesday 4/17.
You don't have to do anything special. Just go here on over to Amazon, and "buy" the book for $0.00. Do it! It's fun! And it's a delightful and practical short read on how to work better with your own ideas.
As of this morning, it was at #300 for all of Kindle – can you share this post to help see how high we can go? Thanks!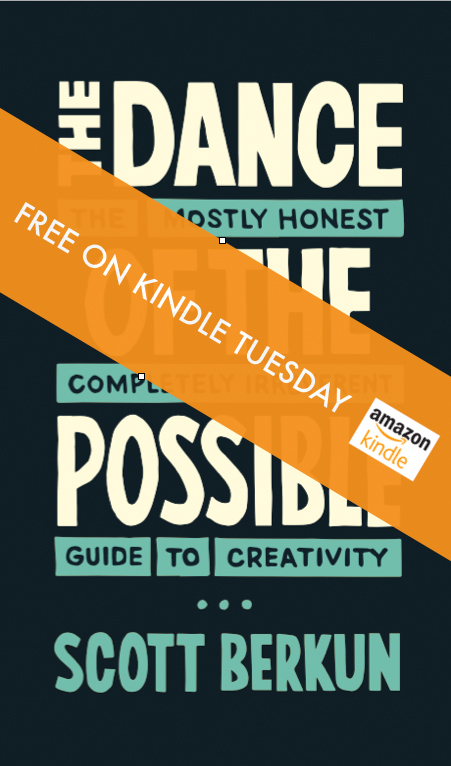 Here's what some folks I respect said about the book:
"You'll find a lot to steal from this short, inspiring guide to being creative. Made me want to get up and make stuff!"  – Austin Kleon, author of How To Steal Like An Artist

"A fun, funny, no-BS guide to finding new ideas and finishing them. Instantly useful."– Ramez Naam, author of the Nexus Trilogy

"Concisely debunks all kinds of misconceptions about the creative process in a book that's no-nonsense, fun, and inspiring." – Mason Currey, author of Daily Rituals: How Artists Work

"This book will undoubtedly increase your abilities to invent, innovate, inspire, and make things that matter. It's fun, it's funny, and it's phenomenally effective." – Jane McGonigal, author of the New York Times bestsellers Reality is Broken and SuperBetter